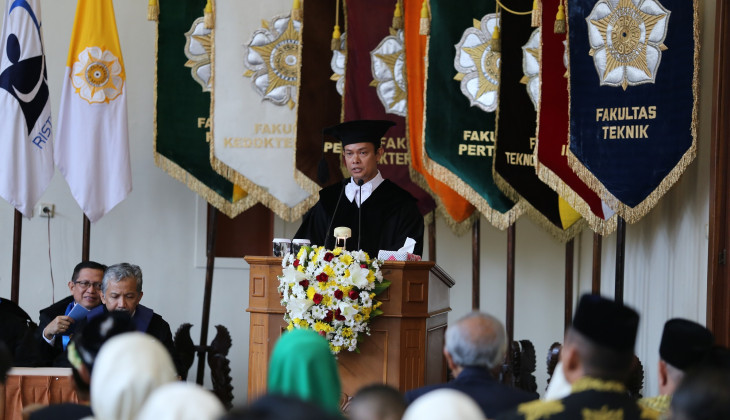 Landslide disaster is a natural disaster that has high incidence across the world. The ground movement has hit areas that have medium to steep slopes, unstable earth condition, and high precipitation or earthquake.
According to Prof. Teuku Faisal Fathani, S.T., M.T., Ph.D, intensive infrastructure development in vulnerable areas would increase disaster risks. The movement of the ground may cause great damage and loss if occurring in areas with high population.
"Unfortunately, on the other hand, knowledge and capacity of the community in disaster mitigation are still low," he said in the UGM Senate Hall on Thursday (3/5) when he was inaugurated as professor at Faculty of Engineering UGM.
Faisal explained Indonesia has unique geomorphology as it lies on the junction of three big, active plates. This makes Indonesia have various potential in natural disasters, such as volcanic eruption, earthquake and tsunami, landslide and flood. Data for National Disaster Mitigation Agency (BNPB) between 2003-2017 showed increased incidence of disasters in the country.
"Landslides are the most fatal disaster in 2016 with 612 incidences and 188 casualties," said the lecturer from Civil Engineering and Environment Department.
In 2017, there were 2,372 disasters that took the lives of 377 while 3,49 million of people were impacted and evacuated. Landsliding incidents ranked third after flooding and cyclone. Disaster risk analysis revealed landsliding occured in almost all provinces of Indonesia with impacted number of people reaching 14.1 million and 57.4 million hectares of lands, leading to tremendous economic, physical, and environmental impacts.
Delivering an inaugural speech titled Upholding National Technology Sovereignty in Landslide Disaster Mitigation, Faisal Fathani said against the background of high vulnerabilities to disaster threats, the Indonesian government has expressed its commitment by establishing disaster risk reduction as one of national development priorities, dating back to the Boxing Day of 2004 after the Indian Ocean tsunami. This is seen in the Law No. 24 Year 2007 on Disaster Mitigation.
Faisal said disaster mitigation was a major challenge and responsibility that can only work with structured, measured, and sustainable strategy. In the past decade, Indonesia has learned valuable lessons and made changes in disaster mitigation management that prioritised on disaster risk reduction. One of the most effective mitigation efforts, according to Faisal, was the implementation of early warning system using efficient technology.