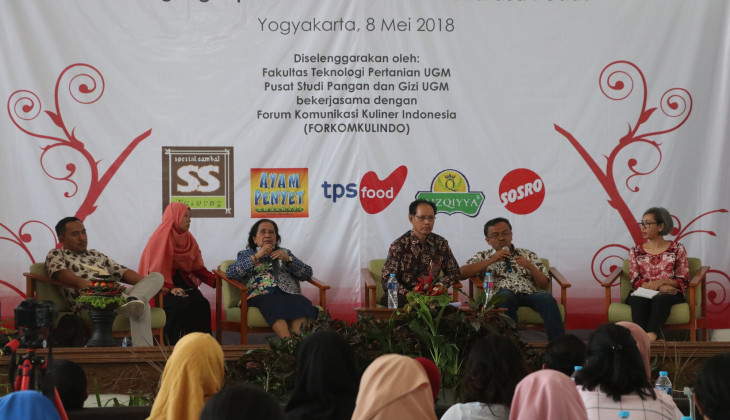 The UGM research team has succeeded in conducting research to find information and identify recipes of sambal (chili sauce) from all over Indonesia. There are 322 types of chili sauce being identified, while 257 of them are used for cooking and dishes. These types of chili sauce consist of 119 raw chili sauce and 138 cooked chili sauce.
In general, the main ingredients of chili sauce are chili, salt, and shrimp paste. Even so, from the 257 types of chili sauce, there are 122 variations of spices. Onion chili sauce is the most widely used, along with garlic, coconut sugar, sugar, and cooking oil.
Prof. Mudjiati Garjito, research team leader, explained that the data collection of chili sauce is used to collect and compile the profile of Indonesian chili sauce into a book. "We will turn the data into a book," said the lecturer of Faculty of Agriculture UGM during a seminar about national spicy cuisines, titled 'Discover the Uniqueness of Spicy Cuisines' for the 9th Lustrum of Faculty of Agricultural Technology UGM at Balai Pamungkas Yogyakarta, Tuesday (5/8).
Dean of Faculty of Agricultural Technology UGM, Prof. Eni Harmayani, stated that chili sauce has become synonymous with Indonesian cuisine. According to Eni, it is time for the government and culinary business to support the internationalization of chili sauce as the symbol of national cuisine. "In that way, sambal can be the symbol of Indonesian cuisine."
Fadly Rahman, UGM Historian, said that one sensation that is inseparable from Indonesian cuisine is the spicy flavor. This is proven by the variety of chili sauce in local culinary traditions. "Spicy is not just a flavor, but it can be reflected historically as an inherited element in the creation of Indonesian cuisine."
Owner of Warung Special Sambal (SS) restaurant, Yoyok Hery Wahyono, explained that chili sauce has been one of the culinary icons in his restaurant since the last 15 years. He noted that there are 34 variations of chili sauce being served in the restaurant. He continues to make improvements to create the spicy flavor that is preferred by the customers. "From our top 5 chili sauce, garlic chili sauce can be sold for 1.2 million orders each month." (Public Relations UGM/Astrid)