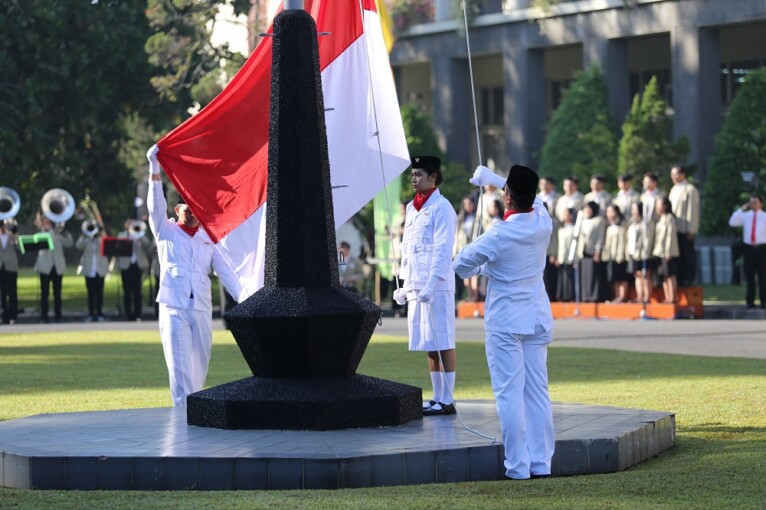 On 1 June, the people of Indonesia celebrate the birth of the state ideology, Pancasila. This is the momentum for the Indonesian people to reaffirm their spirit for unity, sharing, and achieving.
This was said by President Joko Widodo in his remarks that were read out by Rector of UGM, Prof. Ir. Panut Mulyono, M.Eng., D.Eng., in a ceremony commemorating the event on Friday (1/6) at the courtyard of Balairung UGM.
"It's been 73 years Pancasila guiding the nation of Indonesia. During those times, Pancasila survives and lives on amidst the growth of other ideologies that tried to change it," said the President.
According to the President, the state founding fathers consisted of various groups and backgrounds, who had established Pancasila as the unifier of all differences. Pancasila is the philosophy and constitution which is strong that becomes the foundation of a unified, sovereign, fair and prosperous Indonesia.
Those series of major events ought to be remembered and understood always by the citizens so it is everyone's duty and responsibility to bring the spirit of Pancasila in all ways of lives of the people of Indonesia.
"During the celebration of the birth of Pancasila in 2018, we have to reaffirm our spirit to always be united, sharing and achieving," he said.
The President asked the citizens to keep united and enhance the spirit of Unity in Diversity (Bhinneka Tunggal Ika) to be a strong and leading nation. The spirit to share for the sake of common welfare and advancement needs to also be enhanced to achieve justice for all. With all of these, Indonesia will make achievements and win competitions.
Rector of UGM further delivered the message across to the UGM academic community to be united and form synergy in order to develop knowledge, educate prospective leaders, and dedicate the knowledge to the nation and humanity.
"At UGM, we are the miniature of Indonesia, who hail from all parts of the country from different ethnic groups, backgrounds, and expertise. This diversity is an extraordinary asset for us to get united and form synergy to make Indonesia advancing and prosperous," said Panut.
With the spirit of unity whilst working together between different disciplines, said Panut, UGM would be able to make useful achievements not just for itself but also for civilisation.
"Pancasila shall not and will not be eroded within UGM amidst the global challenges at the present times," he reinstated.