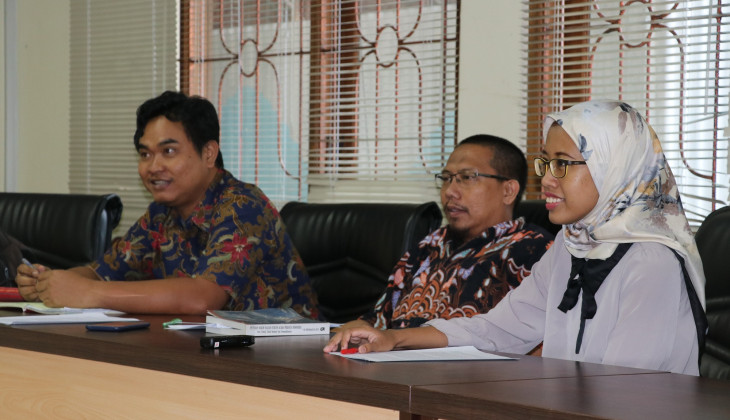 Lecturers from UGM have raised concerns following the verdict on 13 April from the Meulaboh District Court, Aceh, in favour of a lawsuit filed by palm oil company, PT Kallista Alam, against Environment and Forestry Ministry. The company has been named as guilty by the Supreme Court in an act against the law where it had opened lands by burning the forests, hence damaging the environment.
The new lawsuit with the same substance of case being approved by the Court according to lecturer in Civil Law, Hasrul Halili, was an attempt of "smuggling of law", which is against the spirit of environment conservation. "The judge ought to have the spirit of legal enactment for the environment," he said.
According to Hasrul, the Court did not follow the positive trend of the state in enacting environmental laws. "In my opinion, the verdict by the Meulaboh District Court is against the positive trend as well as Criminal and Civil Laws," he said.
Another lecturer in Civil Law, Laras Susanti, SH., LL.M., said following the verdict handed down by the Supreme Court which was legally binding, the company filing a new lawsuit, downplaying jurisprudence, would not eliminate the substance of the case. She expected the higher level Court to reject this. "I hope the High Court would reject the verdict by the District Court," she said.
UGM lecturer in Environmental Law, I Gusti Agung Made Wardana Ph.D., said as far as he was concerned, this was the first time ever for a company to fight back by filing a new lawsuit even if the company had been punished. "The Supreme Court's verdict should have been executed, but due to the errors in typing the coordinate points of the location, the company found a way to file the new lawsuit," he said.
For Wardana this was just a typo and not the substance to annul the verdict. Because the case to which the Supreme Court handed down its verdict was based on the violation of Criminal and Civil Law, namely the act of opening lands by burning. "The new lawsuit on the typos of coordinate points is not an object of the case, but the forest burning in its concession area is," he said.
The lecturers later urged the Supreme Court to order the execution of its verdict immediately. The lecturers also asked the Supreme Court to review the use of jurisprudence done by the Meulaboh District Court.