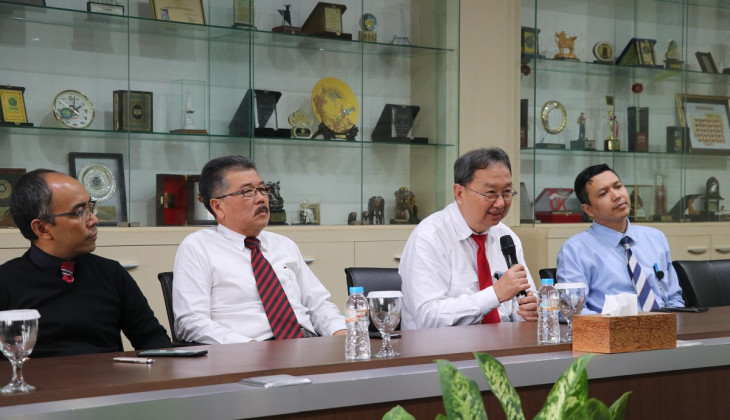 Master of Management study programme of Universitas Gadjah Mada (MM UGM) is currently the only Indonesian business school that has earned AACSB international accreditation, the world's most prestigious accreditation for business schools. The UGM business school continues to improve its curriculum and learning process to produce business leaders ahead of the industrial revolution 4.0.
"We want to produce strategic business leaders who have integrity, creativity, and competence," said Director of the school, T. Hani Handoko, MBA, Ph.D., to journalists on Tuesday (26/6) during socialisation of their 30th anniversary events. He is accompanied by managers of the Jakarta campus, Prof. Dr. Tandelilin Eduardus, M.B.A and Drs. Rusdi Akbar, Akt., M.Sc., and Manager of MM UGM, Bayu Sutikno, Ph.D.
Hani said for thirty years, MM UGM has produced over 11,000 graduates who now work in the country and overseas. Most of them are business leaders in private companies and SMEs. "Through our alumni we want to make impact on the Indonesian business world," he said.
According to Hani, Indonesia still lacks of business leader candidates that meet three criteria: leader with integrity, creative leader, and leader that have competence. MM UGM works to meet these criteria. "Studies at MM UGM not just support students ready for work but also ready for learning so they all have the skills to be a learner," he said.
"Hopefully what we've done in business school may make impact on the practices of business and management," he expected.
MM UGM currently has partnered with 37 partners from 11 countries including Australia, Netherlands, Germany, France, UK, Scotland, Norway, Sweden, and Austria. They also offer dual degree programme in collaboration with 13 foreign universities.
To celebrate its 30th anniversary, MM UGM will host events inviting alumni to share their experiences. "The alumni will come home and share how the learning process here can support their career to be a CEO," said Hani.
The event titled Alumni Homecoming 30.6 will run on Saturday (30/6) at Auditorium of MM UGM. Alumni that will attend include Cabinet Secretary, Pramono Anung Wibowo, Director of BNI Sharia Bank, Abdullah Firman Wibowo, Director of PT Adhi Karya (Persero), Budi Harto, Director of Grup Samator, Arief Harsono, Director of Sarinah, Gusti Ngurah Putu Sugiarta Yasa, Director of PT PJB (Persero), Iwan Agung Firstantara, Director of PT BTN (Persero), Mahelan Prabantarikso, Expert Staff to Minister of Transportation and Commissioner of PT KAI, Cris Kuntadi, and keroncong singer, Sundari Sukotjo. A Cultural Night will follow, presenting guest stars Ikang Fawzi, Butet Kartaredjasa, and Sundari Soekotjo.
On Sunday (1/7), there will be a launching of Kafegama MM card in the School as well as an event to remember the 30 years of journey. On Monday (2/7), the anniversary will culminate with scientific remarks by Minister of Research, Technology, and Higher Learning, Prof. Muhammad Nasir, related to the campus strategy in dealing with revolution industry 4.0.