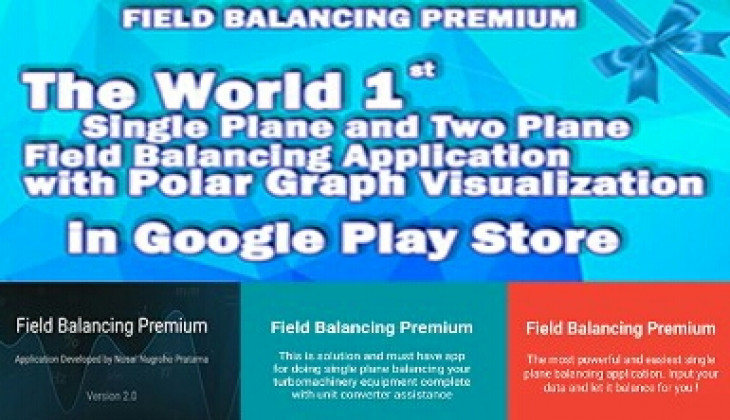 Alumnus of UGM Mechanical Engineering, Nosal Nugroho Pratama, successfully created an application for Android operating system called Field Balancing Premium, which is an invention in Corrective Maintenance Engineering technology for turbomachinery equipment, such as turbines, compressors, pumps, fans, disks, and other rotating machines.
"This application is expected to facilitate industry practitioners and engineers working in the chemical, oil and gas, power generation, as well as cement and mining industry to do in-situ balancing activities," said Nosal on Tuesday (7/3).
He explained that in-situ turbomachinery balancing activities generally require a considerable amount of money by involving service companies because the process uses expensive high-tech tools. In fact, it needs certified and experienced workers.
This application allows engineers in the industry to easily perform in-situ balancing calculation using smartphones or computers installed with this Android app. One of its features is single plane balancing feature.
"Rotors with less than 0.5 of width to diameter ratio is recommended for this feature. Rotors with more than 0.5 of ratio should use the two plane balancing feature."
These features, he added, work with the methods of single and two plane mode with influence vector coefficient. Several cases of corrective maintenance on unbalance turbomachinery equipment can be simulated in this application to identify the value of unbalance influence vector of each rotating machine. Therefore, the application can also be used as a learning platform for practitioners or engineers in the industry.
In addition, the application also comes with a converter related vibration unit, comprehensive reporting, and a help menu to explain the use of the application in simple words. So far, the application has been downloaded by more than 1,100 users from various countries with 33% of users from the US and 22% from Indonesia. It also received positive responses and the 5-star rating on Google Play Store.
"It proves that the users are quite satisfied with the application. The Field Balancing Premium becomes the world's first Android app to help solve the single plane and two plane in-situ balancing with a polar graph visualization using smartphones."
In the future, the application is projected to integrate with a hardware accelerometer/velocity/proximity transducer and a tachometer so it can be a single set of in-situ balancing set-up tool as an alternative of imported hardware and software that cost a great deal of money.
With a simplified completion algorithm, this software is expected to become a practical tool for many technicians.
"We hope that this app will be one of Indonesian products that can be used to complement the maintenance technology of modern industrial equipment in the country, as well as being exported to many countries," he concluded.