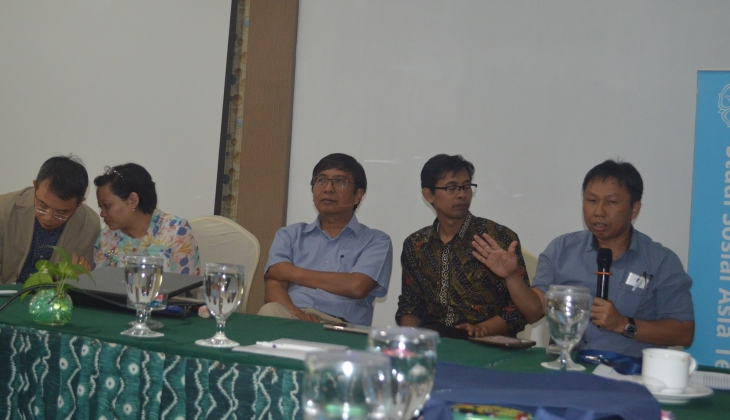 A discourse to enact a moratorium on social sciences at higher education has drawn concerns among academics, including Universitas Gadjah Mada's social-humanities lecturers.
Dr. phil. Hermin Indah Wahyuni, M.Si, communications lecturer at Faculty of Social and Political Sciences, admitted the issue was worrying and Japan has even done it. Hermin, however, does not expect this to happen in Indonesia, because social sciences in the country are still needed.
"It's indeed difficult to comprehend what social sciences are for, because the current times demand a product whereas the product of social sciences is always soft, for instance in the form of policy or creative ideas," said the Head of Centre for Southeast Asian Studies UGM in a press conference after a round table in the run-up to the International Symposium on Social Sciences, held at UC UGM on Wednesday (4/7).
She did not negate the notion that in Indonesia social sciences are not yet seen as giving optimum contribution to resolving state problems. But the notion that Indonesia needs science and technology as they are seen to be able to give more practical contributions to society is not right, either. Science and technology advancement ideally goes along with socio-cultural advancement.
"By placing social sciences in the right context, we can expect to evade the dangerous risk," she said.
Meanwhile, lecturer of International Relations, Drs. Muhadi Sugiono, M.A, said social sciences were facing two problems that need to be responded immediately, relevance and aim. He thought it was important to address the issue of relevance, because many people consider social sciences no longer relevant.
"There is plenty of homework to do and the homework is not only to make social sciences acknowledged but also beneficial for social lives," he said.
The International Symposium on Social Science in the Age of Transformation and Disruption: Its Relevance, Role and Challenge, is scheduled to be held from 4-5 September 2018, inviting sociologists Jurgen Habermas and Prof. Anthony Giddens.
Dr. Rikardo Simarmata, law lecturer from UGM, said social sciences still have important significance as they are needed to help explain why a legal system was ineffective or failing or why someone complies with the law.
"For example, for a length of time the Anti-corruption Commission has been established and the Corruption Law enacted, but we still see corruption being committed at every government agency. Law science cannot give answer to this problem, but social sciences can," he said.