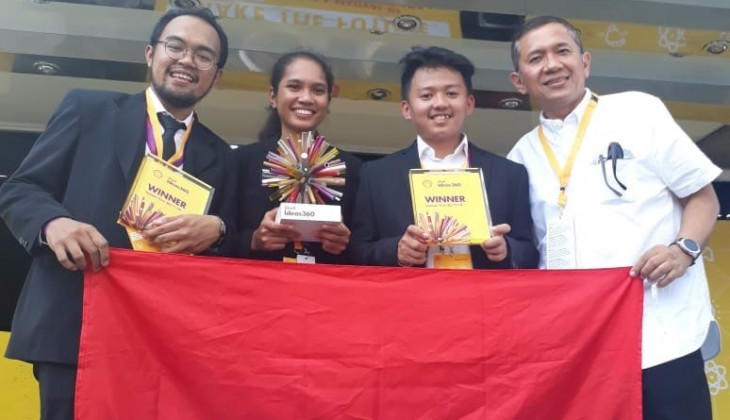 Team of Smart Car MCS UGM won the international competition, Shell Ideas360, on Thursday (5/7) in London.
The UGM team won two categories of the competition that is held by Shell, namely Judges Choice and Audience Voice thanks to the idea of developing smart car that can process plastic waste into fuel with low emission.
With members Herman Amrullah, Sholahuddin Alayyubi, and Thya Laurencia Benedita Araujo, all Chemistry Engineering students, the team became the first winner, beating four other finalists from American University of Sharjah (UAE), University of Texas at Austin (USA), University of Bordeaux (France) and University of Melbourne (Australia).
Previously, the UGM team had to compete and make new innovation in several stages against 3,336 teams from 140 countries. Five best teams were selected to go to London to present their innovation.
"We're thankful we won the competition in two categories," said Herman from London who was contacted on Friday (6/7).
Herman said they had not expected to finally grab the Judges Voice title, especially the team members were all undergraduate students while their competitors were master and double degree students.
The UGM team under the supervision of Hanifrahmawan Sudibyo, S.T., M.Eng., and Yano Surya Pradana, S.T., M.Eng., have won the competition by designing a car that can process plastic waste into fuel by utilising car emissions. The idea stemmed from the concerns that plastic waste was abound in their surroundings. It is true that plastic waste can be turned into fuel, but to convert it needs significant energy.
Later, Herman and fellow students wanted to utilise the heat emitted by vehicles to convert plastic waste into fuel. The emission heat that may reach as high as 500 °C allows it to be used for that process.
This smart car has a pyrolysis reactor that can contain as much as 2 kg of plastic waste. A Microalgae Cultivation Support (MCS) is installed to reduce the amount of CO2 from the emission.
Not only the UGM's Smart Car produces fuel and biofuel for clean energy from plastic waste, but also minimises waste problems, creating a better environment as well as reducing CO2, which eventually can suppress the impact of climate change.