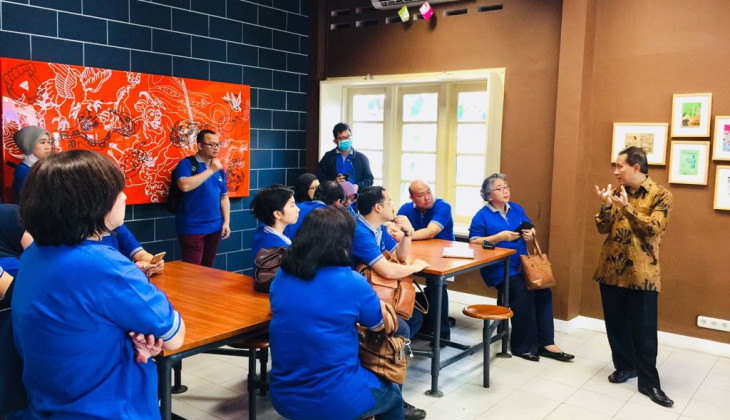 Innovative Academy (IA) UGM received a visit made by as many as 60 staff from Foreign Affairs Ministry on Saturday (7/7) in IA Hub on Bulaksumur H-6. The benchmarking visit is an act by the Ministry in response to the Presidential regulation on Bureaucracy Reform Grand Design 2010 - 2025.
The visitors were received by Director of Business and Incubation UGM, Dr. Hargo Utomo, M.B.A., M.Com., and Head of Business Development sub-directorate, Dr. Eddy Junarsin, M.B.A., as well as startups representatives joining the Innovative Academy.
Hargo Utomo said the management of change and innovation in an organisation had to be done through an approach that is entrepreneurial by multidisciplinary collaboration and transformational leadership. He said UGM had transformed from a teaching university, to research university, to socio-entrepreneurship university. "Those changes are in line with the calls of the times but still accompanied by the same spirit and commitment to deliver noble values and cooperation spirit to society," he said.
Head of Marketing Communications of the Innovative Academy, Alex Dharmawangsa, in a release sent on Monday (9/7) said the visit by the Foreign Ministry was expected to inspire the participants in order to make change in the way of thinking and work culture in the Ministry. "The Foreign Affairs Minister considers that the Innovative Academy is one of UGM programmes that can give positive impacts to the academic environment," he said.
Alex added following this visit there would more government agencies coming who were interested in the developments of revolutional industry 4.0. "In this era of industrial revolution, the focus is on collaboration and quick services," he said.