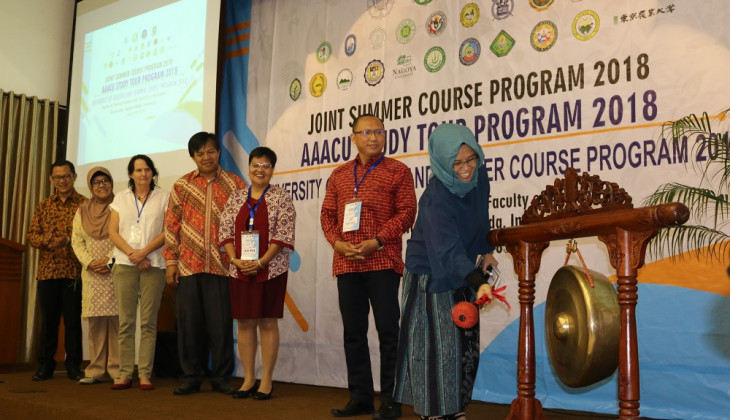 As many as 38 international students visit UGM to learn agriculture and animal husbandry in Indonesia.
For 12 days since 9 - 20 July 2018, students from the Philippines, Thailand, Malaysia, Japan, Korea, and Australia will participate in Joint Summer Course Program, organised by Faculty of Agriculture and Faculty of Animal Sciences UGM.
The course is a collaboration between AAACU Study Tour Program 2018 and the University of Queensland Summer Course Program 2018. As many as 20 students of the total are from member countries of Asian Association of Agricultural Colleges and Universities (AAACU) and 18 from University of Queensland. In addition, 28 students from UGM and Universitas Tidar join the event.
Apart from the courses, the students will also make observation, field practice, community service, industrial visit, and cultural events throughout the summer course.
UGM Vice-Rector for Research and Community Service, drg. Ika Dewi Ana, M.Kes., Ph.D. opened the event. In her remarks, Ika said she hoped all the participants would interact and share knowledge and experience.
"The summer course is an opportunity for the students to learn together in implementing education, research, and community service. I hope this will continue in the future," she said.
Vice-Dean for Academic and Student Affairs at Faculty of Animal Sciences UGM, Prof. Ir. Budi Guntoro, S.Pt., M.Sc., Ph.D., IPU., appreciated all the participants, hoping they would be able to take part well and share their experience and culture with each other.
Also attending the opening of the event were Dean of Faculty of Agriculture UGM, Dr. Jamhari, Technical Assistant of AAACU, Dr. Filma Calalo, Head of International Subdirectorate at UGM, I Made Andi Arsana, S.T., M.E., Ph.D., and leadership from Faculty of Animal Sciences.
UGM is one of the founding fathers of AAACU and became member since its establishment in 1972. AAACU has membership from 15 nations: Guam, USA, Iran, India, Indonesia, Japan, Malaysia, Korea, Taiwan, Thailand, Turkey, Philippines, and Vietnam.