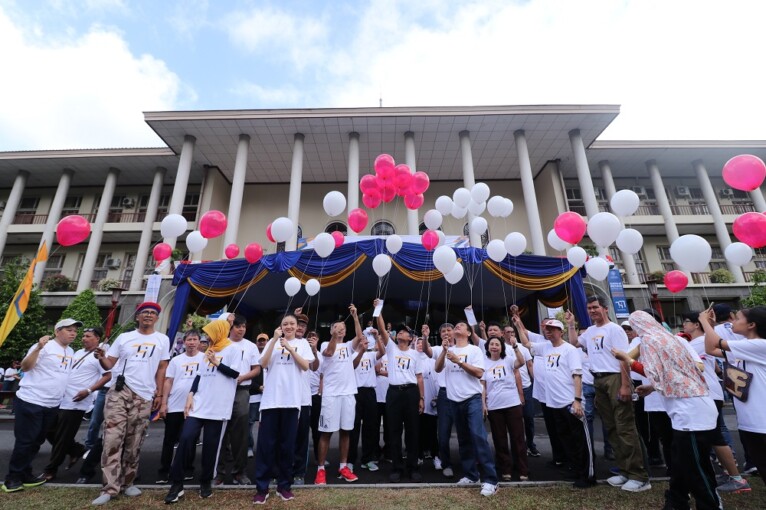 Rector of UGM, Prof. Ir. Panut Mulyono, M.Eng., D.Eng., has officially commenced the series of UGM's 69th-anniversary celebration. The opening is symbolically marked by the release of 69 red and white colored balloons and 69 birds into the sky at the Balairung courtyard, Friday (8/3). The number 69 is selected to represent UGM's age since its establishment in 1949. Two out of the 69 balloons released were carrying prize money worth Rp1.5 million each. People who find the two balloons can collect the prize on the campus.
Rector said the theme of this year's anniversary is Excellence of UGM Scientific Research for Nation's Unity and Sovereignty. According to the Rector, the theme intends to highlight UGM's research commercialization for the improvement of community prosperity. "We advance the campus' innovation in science and technology in order to benefit the nation," he said in his opening speech.
Additionally, he expressed concern about social media misuse in Indonesia where people are blaming and cursing each other. Therefore, he expected technology to strengthen the nation's unity and integrity instead of breaking them. "Hopefully technology can bring us together as a nation."
On this occasion, Rector expressed his appreciation to the event committee and partners who supported the opening ceremony. "Thank you for the participation and contribution. We hope UGM will be more deeply rooted while soaring high."
Head of UGM anniversary committee, Prof. Ir. Yoyok Wahyu Subroto, M.Eng., Ph.D., said this year's celebration involves 20 agendas to be conducted to December 19. He also anticipated the support from UGM academic community in carrying out the entire agenda.
The opening ceremony was attended by thousands of academic community consisting of non-teaching staff and lecturers. The event includes mass gymnastics, drone attractions, dance and musical performance, and also door prize giveaway.