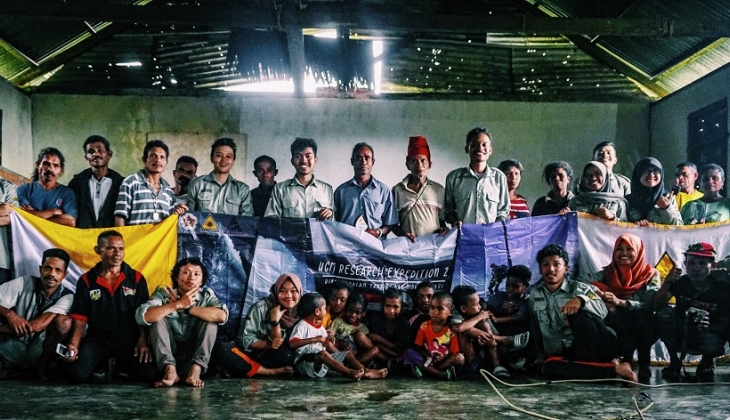 Nature enthusiast students of Universitas Gadjah Mada (MAPAGAMA) joining in the team of UGM Research Expedition II have explored Piliana Village, Central Maluku, since June 30 to July 20, 2018.
In the program titled 7 Summits Unique of Indonesia Archipelago, they conduct research on biotic and abiotic environment, and local culture. In addition, they did cave climbing and exploration in the area.
"The location was chosen because it is located at the foot of Mount Binaya and close to the village of Manusela National Park. The area has not been studied extensively so we want to explore it more," stated the research field coordinator, Michael Warren Akyuwen, in a release received on Monday (8/6).
Michael said his team has successfully completed the research. Although there were obstacles in the data collection process, they managed to meet the deadline.
"We organized dissemination activities for villagers of Piliana after completing the research. Hopefully this will benefit them."
The research finds various interesting things from the village's nature tourism, traditional house, and cultures. They hope the research can be used as a tool in developing Piliana.
This research expedition in Maluku is the second research-based National Expedition carried out by MAPAGAMA. The previous expedition entitled Merapi: Dulu Kini dan Nanti was held in Mount Merapi National Park area.
MAPAGAMA assigns 13 students consisting of Alamsyah Prabayu from Biology 2015, Fahmi Arsyad from Animal Sciences 2015, Michael Warren Akyuwen from Law 2015, Eni Paryani from Geography 2016, Kresna Muharram from Mathematics and Natural Sciences 2016, as well as Aqila Saharani from Archaeology 2017.
Additionally, there are Deswita Ayu Wandira from Cultural Anthropology 2017, Nabila Salma Huwaida from Law 2017, Rachmad Willy Adam from Tourism 2017, Sitaresmi from Postharvest and Food Engineering 2017, Sholeh Firmansyah from Mathematics and Natural Sciences 2017, Alfira Ihda and also Toto Karsius from the Vocational School.