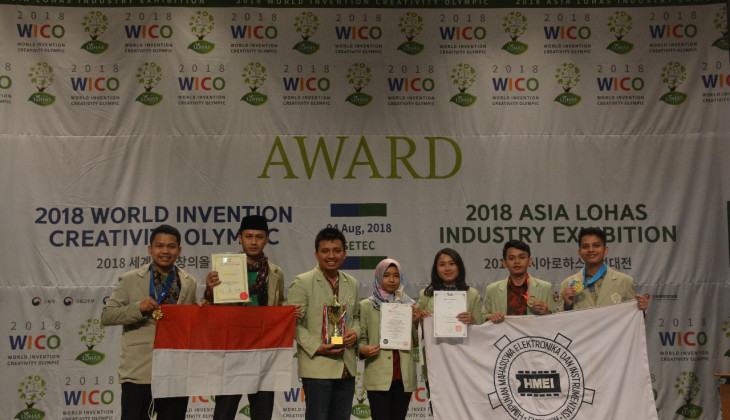 Seven UGM students joining the Ba.TIC Team successfully won three awards at the World Invention Creativity Olympic 2018 competition. Held at Seoul Trade Exhibition & Convention (SETEC) in Seoul, South Korea, between August 2-4, WICO is an innovation and invention contest that accommodates student creativity through innovative product development.
"We won three awards at this competition, including a silver medal for best presentation, special award, and best leading innovation award," said Ghilman Nafadza Hakim, UGM Philosophy student, Thursday (8/9).
Aside Ghilman, the team consists of Muhammad Fadlullah from Graduate School, Fazlur Rahman from the Faculty of Forestry, Laura Sofa Hana from the Faculty of Economics and Business, as well as Piquita Della Audyana, Mahardian Anjar lainggiarta, and Mas Fariz Fadlilah Mufid from the Faculty of Mathematics and Natural Sciences.
WICO itself is hosted by Korea University Invention and Innovation Promotion (KUIA) and joined by participants from 26 countries. The UGM students as representatives of Indonesia presented Ba.TIC as an innovation for the competition.
"Ba.TIC stands for Batik with Technology embedded inside as Innovation in Conservation. It is an application that becomes a breakthrough for the flora conservation campaign and it uses a fusion of fashion and technology," stated the student from batch 2014.
He explained that Ba.TIC embeds Augmented Reality (AR) technology and QR Code labelling as a platform for transferring knowledge to explore the iconic flora details in batik patterns. QR Code labelling helps interpret the illustrative models in batik patterns with realist models from nature that appear in 3D on the application.
Additionally, the platform also presents the historical and philosophical background of batik as the art of Indonesia.
"The use of Augmented Reality technology and QR Code labelling helps preserve the authenticity and quality of the product."
Ba.TIC can be used as an educational tool that aims to build public awareness and participation in saving the local wisdom and biodiversity of Indonesia through batik. The touch of technology combined with local culture makes Ba.TIC as a new discovery in heritage preservation.