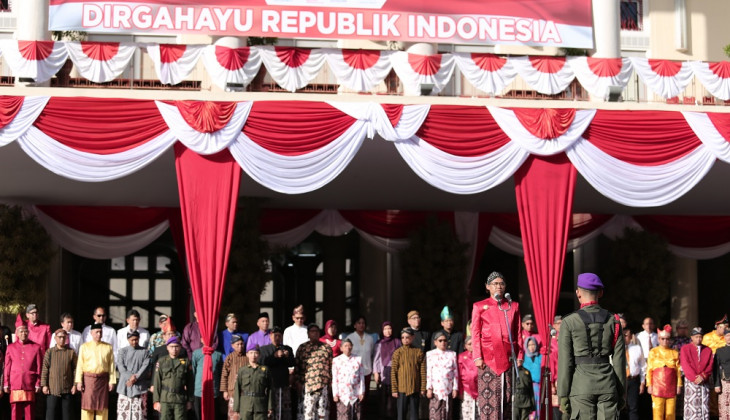 Universitas Gadjah Mada held a ceremony to celebrate the 73rd anniversary of the Republic of Indonesia at the courtyard of Balairung UGM on Friday (17/8). The event was followed by academic community of UGM, led by Rector of UGM, Prof. Ir. Panut Mulyono, M.Eng., D.Eng.
"Through the 73rd anniversary of the Republic of Indonesia, let's continue to improve and build education, research, and community service, so we can make great achievements and make the country proud," said Panut.
In the ceremony, Panut read out the remarks from Minister of Research, Technology, and Higher Education, Prof. Muhamad Nasir. In the moment of anniversary celebration, the Minister asked all citizens of Indonesia to understand the state ideology of Pancasila in its entirety and see diversity as a blessing.
The Indonesian nation at present, he said, was praised by many due to its political stability, healthy economic growth and with great achievements. Many achievements were made by Indonesian young people in various international competitions. These include the gold medal that was won by an Indonesian sprinter in the U-20 world competition and the football team that won the AFF U-16.
"From UGM our students have excelled in various international competitions, such as Shell Ideas 360 victory with smart cars using waste fuel, gold medals in the Siriaj International Microbiology, Parasitology, and Immunology Competition, and others," said the Rector about the achievements of UGM students.
In the occasion, the Rector also delivered points to consider by the UGM academic community. Panut said the pride did not come only from those national and international accomplishments, but also community service areas.
"Our brothers in West Nusa Tenggara recently suffered from an immense earthquake. Responding to the emergency, our students who were on a community service project in Lombok Barat and Lombok Timur had spontaneously gone to the disaster location and offered help," he said.
Panut emphasised that such care was an attitude that needs to be instilled among the students. Humanitarian aspect is an aspect that has to become the attention of all UGM academic community apart from science, technology, and arts that are required in the present times.
In his opinion, the command of those, in addition to social entrepreneurship spirit, creative and innovative attitude, and good understanding of humanity need to be possessed by UGM graduates. Therefore, lecturers, non-teaching staff, and good facilities and infrastructure are needed in order to generate qualified graduates.
"If this condition is met, Indonesia will soon become a nation with high competitiveness," he said.
Furthermore, he asked all UGM academic members to continue perform, make innovation and achievement while serving the nation.
The ceremony was followed with a contest of traditional outfits themed Being Diverse is Beautiful, showcasing 40 teams from UGM faculties and work units who flaunted their bountiful, beautiful and colourful attires.