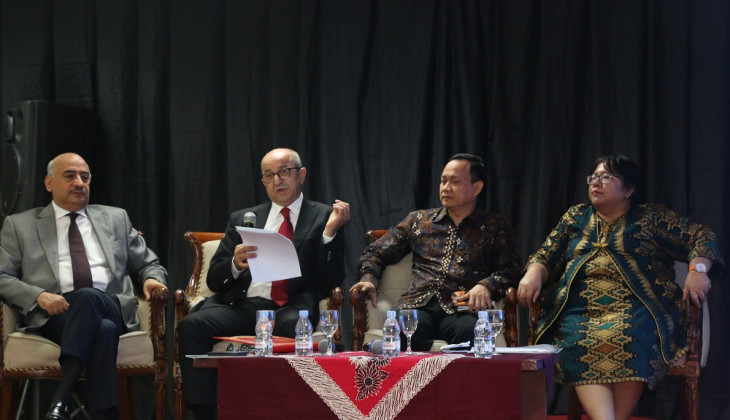 Government will encourage businessmen to export commodities to the Middle East. Currently, the region is still ignored by the businessmen due to the image of it that is still experiencing conflict and war.
Current Indonesia's trade balance is deficit as Indonesia still imports a great deal of oil and gas while non-oil and gas export is low. This issue emerge in a discussion on cooperation between Indonesia and the Middle East done at Faculty of Social and Political Sciences UGM on Tuesday (28/8).
Secretary to Director General for Asia Pacific and Africa in the Foreign Affairs Ministry, Rossy Verona, said the heated political constellation in the Middle East has driven the government to give priority to the protection of Indonesian nationals and migrant workers in the region. But each of Indonesian diplomats are also tasked to open economic diplomacy to improve bilateral trade. "As a diplomat, we are not only dealing with diplomacy but also act as marketing agent for the economy," she said.
Besides, the government participates in world peacekeeping effort by sending troops to the UN peacekeeping troops. "In 2019 there are 4,000 troops that have been assigned and, going forward, there will be more women being dispatched," she said.
Meanwhile, Director for the Middle East in the Ministry, Sunarko, said Indonesia paid serious attention to the Middle East conflict. In his opinion, after the much upheavals and conflict in the region, those countries had learned much from the Indonesian government in building reconciliation and consolidation to adopt democracy well. "Many countries have experienced transition after the Arab Spring," he said.
He viewed that the role of Indonesia is more awaited for after Indonesia became a non-permanent member of the UN Security Council. "We will enhance bilateral ties in conflict region for peace," he said.
Sunarko added the government also gave attention to Palestine towards its independence. "Palestine is a member of the Asia-Africa Conference 1955, which is still not independent today," he said.
Meanwhile, the government through the Foreign Affairs Ministry has asked international community to recognise the sovereignty and independence of Palestine. The government also gave real contribution for the capacity enhancement of Palestinian human resource. "Apart from giving scholarships to Palestinian students, we have 158 programmes for capacity building for 1,811 Palestinian young people, among them is to train the Palestinians to become pilot. We hope this all will benefit Palestine once they are free," he said.
Moroccan Ambassador to Indonesia, Ouadia Benadekkah, said economic issues became the attention of Morocco in its diplomatic ties with Indonesia. "Many opportunities exist for both country for bilateral cooperation. I think politics and democracy have run well in Indonesia. Our challenge now is to enhance capacity in global trade," he said.