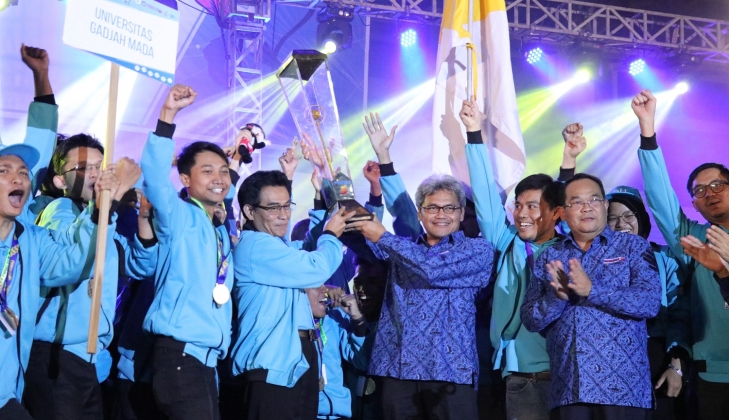 UGM has earned grand champion titles of the 31st National Scientific Week (PIMNAS) hosted by Universitas Negeri Yogyakarta (UNY) since 29 August – 1 September 2018. This was announced during the closing of PIMNAS event on Saturday (1/9) at UNY.
UGM has earned 10 gold medals, 3 silver medals, and 5 bronze medals from two categories, poster and presentation. Second and third winners are Universitas Brawijaya and Universitas Diponegoro. This means that UGM also earned the rotating trophy. This is the six titles for UGM to be the grand champion of the PIMNAS after winning it in 2006, 2007, 2010, 2011, and 2014.
In poster category, UGM's gold medals came from Socio-humanities, Copyrighted Works, and Community Service; silver from Community Service, and bronze from Exact research and Community Service.
In presentation category, UGM earned 7 golds, 2 silvers, and 2 bronzes. Respectively: gold from Socio-humanities research, Exact research, Copyrighted Works, Entrepreneurship, Community Service and Written Ideas; silver from Exact science research and Written Ideas; and bronze from Exact Science Research and Community Service.
Prof. Ainun Na'im, Ph.D., M.B.A., Secretary General of Research, Technology, and Higher Education, congratulated UGM for this achievement, but adding that all of the participants were also winners.
"That is because it is not easy for them to get here. They are here after having beaten their competitors from all over Indonesia. They are the chosen students," he said.
He expressed his hopes for the continuation of the event. "I hope this competition would increase the quality of scientific paper, innovation, and competitiveness of higher education in Indonesia," he said.