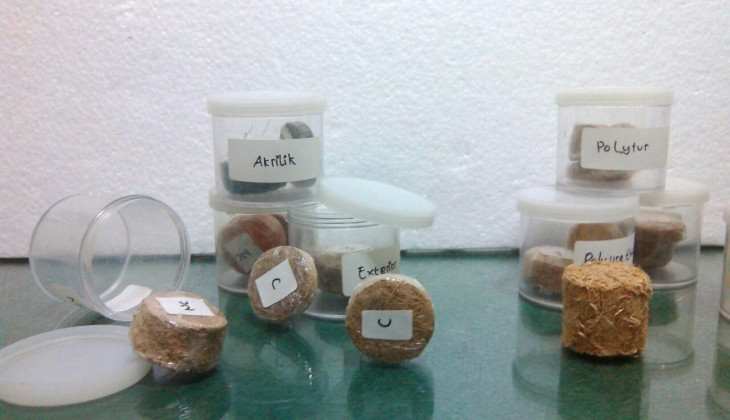 Students of Universitas Gadjah Mada succeeded in transforming flour waste from palm trees processing into acoustic panels.
This creative idea has made Ardhi Kamal Haq and Muhammad Dwiki Destian Susilo finalists of the 7th International Green Brain Paper Competition held at Middle East Technical University Northern Cyprus Campus (METU NCC). Both will present their work in the final round of the competition from October 3 to 6, 2018, in Cyprus.
Dwiki explained the idea of processing flour waste stemmed from their concern about the abundance of waste generated by palm flour industries. In fact, the amount has exceeded the standard limit set by the government.
"For instance, SMEs in Bendo, Klaten Regency, produce around 600-700 kg of waste per day," he said on Monday (9/10) at UGM campus.
The large amount of waste, Dwiki mentioned, will cause environmental pollution if left untreated. It can increase the demand of biological oxygen to break down organic matter in water by microorganisms (Biological Oxygen Demand) and the demand of chemical oxygen for the oxidation of organic matter in water (Chemical Oxygen Demand) in industrial area. The amount reaches 2222 mg/L and 5721,5 mg/L during precipitation and decreases to 1806 mg/L and 4231 mg/L after the chlorination stage.
"Pristine, unpolluted rivers have a BOD below 1 mg/L, while polluted rivers vary between 2 to 8 mg/L. Rivers with BOD above 8 mg/L require special management," he explained.
Concerned about this condition, the two Physics Department students thought hard to make a breakthrough to reduce the BOD and COD levels around the SMEs in Bendo. They processed several variations of flour waste into acoustic panels. The panels were then tested with acoustic method to determine their absorption coefficient.
As a result, the acoustic panels can achieve maximum results with combustion method and special paint to enhance the absorption.