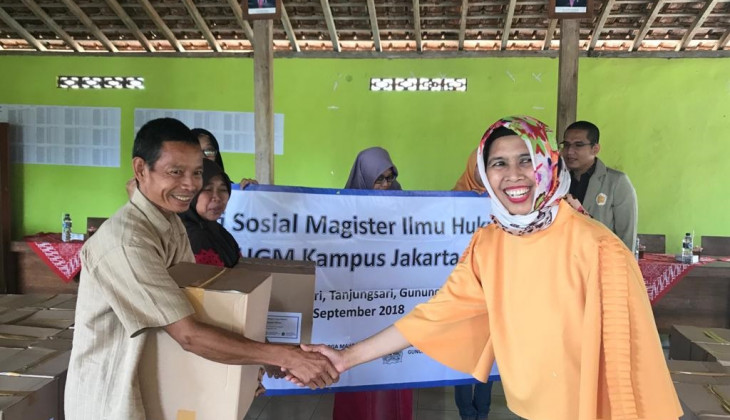 Unpredictable environmental and weather conditions of late have caused crop failures in Gunung Kidul Regency. One of the crops that failed is dried cassava root (gaplek), which is the staple food of the local community. It becomes a concern to the Master of Legal Science Program (MIH) UGM Jakarta Campus. On Monday (9/10), the school hosted a social service to lessen the burden of the community in Pakel, Gunungkidul Regency, Yogyakarta.
In his remarks, Head of Pakel hamlet, Wagito, conveyed that the hamlet is still underdeveloped compared to those that had become tourism villages. Out of 209 households, most of its residents work as farmers, making crop failure a threat to their economy.
"Right now, our main problem is failure in cassava farming. We appreciated MIH UGM Jakarta for coming and providing us help in this difficult situation," stated Wagito in front of hundreds of people who attended the social service.
Representing MIH UGM Jakarta, the Head of Department, Prof. Dr. Sulistiowati, S.H., M.Hum., expressed her gratitude for the villagers' warm welcome. She hoped that the food aid they distributed to 250 families can lessen their burden.
This event, said Sulistiowati, is one of community service programs carried out by MIH UGM Jakarta as a manifestation of Tridharma of Higher Education.
"Pakel hamlet was chosen because we wanted to help the farmers who faced crop failures," said Sulistiowati.
The MIH UGM Jakarta team consisting of administrators and students also provided aid to several poor families. They also planned to conduct community service in Jakarta in the form of legal counseling that departed from the needs of local residents.