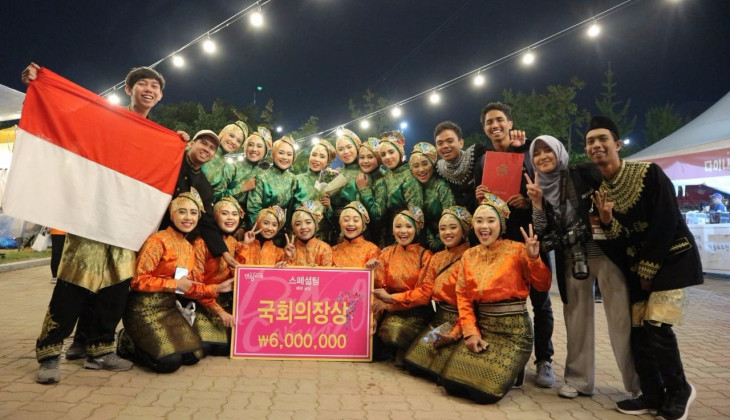 Aceh traditional dance community of Universitas Gadjah Mada, Rampoe UGM, has been the winner of the Wonju Dynamic Dancing Carnival 2018 that lasted from 11-16 September 2018 in South Korea.
In the competition, Rampoe UGM has successfully become the champion after beating 38 other teams from 13 countries in the world.
Chairperson of Rampoe UGM, Asih Laraswati, said that to cultural mission in South Korea, the group sent 16 female dancers who were supported by 3 musicians, 1 singer, 1 manager, and 1 photographer.
"We performed the Aceh dance called as Ratoeh Jaroe in the South Korean competition," she said when contacted on Monday (17/9).
Ratoeh Jaroe dance is a dance that illustrates the daily life of Aceh people that uphold solidarity. The dance is accompanied by Islamic verses while being performed.
Asih said the success of the Rampoe UGM in the cultural mission was not apart from the hard work and practice by the members since early 2018. In addition, they were supported by Faculty of Cultural Sciences and UGM.
"The achievement became our pride as we were able to promote Indonesian culture at the international level as well as earning an award that makes UGM and Indonesia proud," she said.