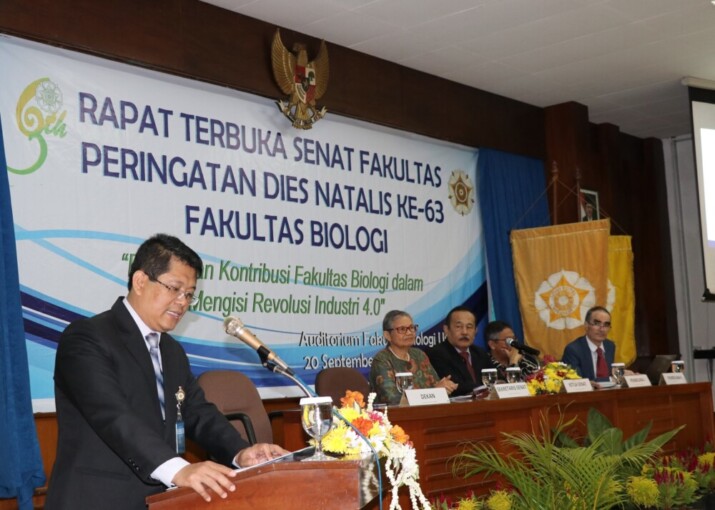 UGM's Centre for Regional Planning and Development Studies (PSPPR) celebrates its 40th anniversary this year. To celebrate it, they held a national Seminar to reflect on what has been done and to explore opportunities in planning regional development.
Head of the Centre, Ir. Agam Marsoyo, M.Sc., Ph.D., opening the seminar on Thursday (20/9) said, "There are 312 people attending this event; those people have implemented their knowledge in the field and make contribution to the state," said.
The theme of the seminar is Regional Planning in State Development: Reflection and Future. Participants are UGM alumni who occupy positions in central and local government agencies as well as partners of the Centre.
Centre for Regional Planning and Development Studies which is one of the oldest centres at UGM focuses on the development of science and technology in regional planning and development management in a broad sense.
Initially, the Centre defined the function and meaning of spatial sciences for overall development through a series of national workshops. These had produced documentation which was a compilation of avant-garde ideas at that time on Indonesia's development planning.
"For 40 years the Centre has been consistently developing sciences in regional development and management through projects at regional and national levels," said Rector of UGM, Prof. Ir. Panut Mulyono, M.Eng., D.Eng.
Indonesian development, according to Panut, was not apart from social, political, and economic dynamics of the state. Hence, studies and programmes conducted by the Centre need to be kept dynamic and varying in terms of method and substance.
He hoped in the future the Centre with its academic force supported by alumni across the country could form synergy to resolve development problems in the country.
"The 40th anniversary celebration is the right moment to reflect and determine the steps forward to give contribution to the regional development in the country and find opportunities for a better future," he said.
The seminar invited speakers such as Deputy Minister for Regional Development, Ir. Rudy Soeprihadi Prawiradinata, MCRP., Ph.D., Head of Centre for Urban Areas Development BPIW, Ir. Agusta Ersada Sinulingga, MT, and Director General for Transmigration Areas Development, Dr. Ir. H. Muhammad Nurdin, MT.