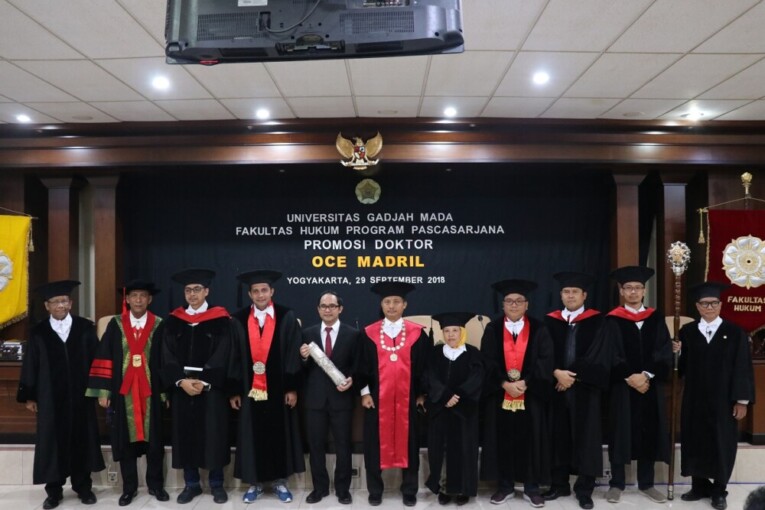 UGM researchers joining CIMEDs (Centre for Innovation of Medical Equipment and Devices) at Faculty of Engineering UGM contribute bone connector implants for survivors of earthquake and tsunami in Palu. As many as 100 implants consisting of narrow dynamics compression plate, small plate, broad plate, reconstruction plate, T plate, and mini plate are handed over by Dean of the Faculty, Prof. Ir. Nizam, M.Sc., Ph.D and accepted by dr. Yuniarta Prabowo, Sp.Ort, orthopaedic surgeon at Dr Sardjito Hospital, to be sent to Palu.
"We hope this assistance will help the survivors of disaster in Palu and Donggala," said Nizam in Mechanical Engineering and Industry Department on Wednesday (3/10).
A team of orthopaedic surgeons will depart for Palu to handle survivors that need bone connectors due to earthquake and tsunami on Wednesday (3/10) evening. The team consists of 22 medical people, led by dr. Tedjo Rukmoyo, Sp. Ort.
Nizam said Faculty of Engineering UGM would prepare another assistance in the form of temporary shelters and water provision. In addition, the Faculty is opened for engineering students of University of Tadulako, Palu, who want to continue studying.
"Those students can study the same courses here because we know the building of Tadulako University has been damaged during the disaster. And we will accommodate between 5 – 10 percent of students of Tadulako," he said.
Dr. Suyitno, ST., M.Sc, chairman of CIMEDs, explained the implants for Palu had been developed since 2007 based on the bone morphometry of Indonesian people and data of bone measurement. It was developed on the background of Bantul earthquake in 2006 that took thousands of lives. Survivors with major injuries turned out to experience broken bones with the case reaching over 70%.
"The need for implants is considerable and immediate. It is reported that there are 800 patients in Palu that need bone connecting treatment," he said.
Suyitno added the CIMEDs were preparing 400 more implants.
"Compared to imported implants, this implant is much cheaper between IDR300 – 500 thousand," he said.
Suyitno said whether or not in disaster, domestic industry is required to meet implant demands. Implants are needed, too, by people who experience traffic or occupational accidents, or others.
The implant development is supported financially by Higher Education Directorate General and UGM. It involves researchers from Mechanical Engineering and Industry Department, Orthopaedics and Traumatology Unit of Dr. Sardjito Hospital and Faculty of Medicine, Public Health, and Nursing UGM. The CIMEDs research team consists of Dr. Budi Arifvianto, ST., M.Biotech., Dr. Urip Agus Salim, ST., M.Eng.Sc., Dr. Muslim Mahardika, ST., M.Eng., and Dr. dr. Rahadyan Magetsari, Sp.OT(K).
Currently, the team also prepares artificial legs for survivors of earthquake and tsunami in Palu.
dr. Yuniarta Prabowo, Sp.Ort added the medical team from Dr. Sardjito Hospital would collaborate with Bhayangkara Hospital in Palu.