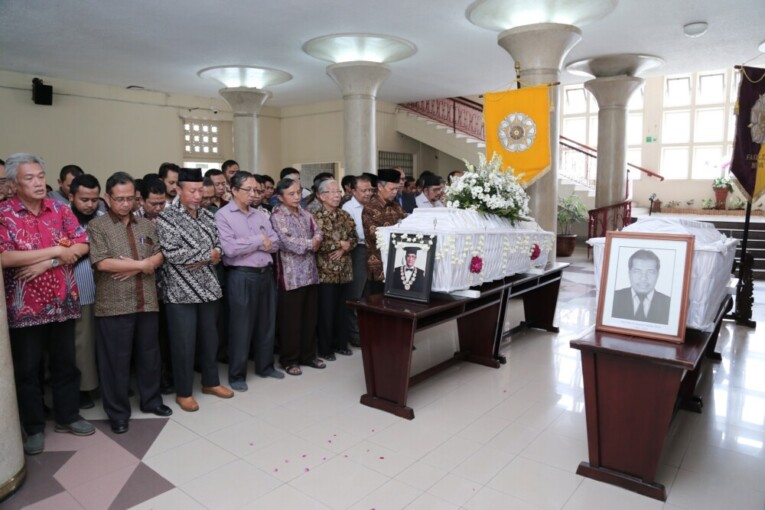 The rupiah exchange rate has reached past Rp15,000 per US dollar in recent weeks. It slumps to the lowest value in this year, even since the Asian Crisis in 1998.
Several policies have been issued by the government and Bank Indonesia. The falling value of rupiah followed by the declining Composite Stock Price Index (CSPI) raises several questions regarding Indonesia's economic fundamentals.
Professor from UGM Faculty of Economics and Business, Prof. Dr. Mudrajad Kuncoro, M.Soc., Sc., stated the rupiah depreciation and the sharp drop in CSPI were due to Indonesia's long-standing "unhealthy" economic structure. Although the International Monetary Fund has given the medicine, it was not effective and "more medicine" were apparently still needed to cure Indonesia from this chronic disease.
"We certainly need to find the root cause of the weakening rupiah and CSPI. External factors are mere triggers because the source of chronic diseases that results in "unhealthy" economic structure needs to be prioritized and then choose the right medicine," he said at UGM Courtroom, Tuesday (10/16) in a monthly discussion themed Efforts to Strengthen Rupiah Exchange Rate Against US Dollar.
Without interest rate increase in the US, an unhealthy trade balance and current account have resulted in rupiah depreciation. If there is no fundamental change in macro and sectoral policies, the threat of crisis in the capital and forex market will sooner or later spread to all sectors, including traditional and Small and Micro Enterprises (SMEs).
According to Mudrajat, the chronic disease that eroded Indonesia's economy and made it unhealthy was the continuous trade balance and current account deficit. The current account deficit in the second quarter of 2018 is USD 8 billion or 3 percent of Gross Domestic Product (GDP).
The number has increased since the fourth quarter of 2017 at USD 5,8 billion (2.2 percent of GDP), even from the fourth quarter of 2016 with only USD 1.8 billion (0.7 percent of GDP). The increasing deficit was due to a declining non-oil & gas trade balance surplus and an increasing deficit in oil & gas trade balance as well as services balance.
Meanwhile, the surplus in non-oil & gas trade balance declined as non-oil & gas imports surged beyond the increase in non-oil & gas exports. The oil & gas trade balance deficit increased, mainly driven by an increase in oil imports which was greater than that in oil exports.
"The increase in services account deficit was mainly affected by the increasing transportation services deficit as goods imports increased," explained Mudrajat.
He stressed the current account deficit was due to the continuous decline in exports caused by the global economic slowdown and sharp decline in global commodity prices amidst high-level imports in both oil & gas and non-oil & gas. In addition, there is a substantial debt interest payment since the second quarter of 2013.
"At the end of May 2015, foreign exchange reserves amounted to USD 110.77 billion, which is equivalent to 7,1 months of imports. Compare with the position at the end of June 2018 reported at USD118.06 billion, which declined compared to the end of January 2018 at USD 131.98 billion."
For this problem, said Mudrajat, the government has issued various policies, including applying Income Tax (Article 22 Income Tax) to 1,146 commodities, mandating the use of 20 percent of biodiesel to reduce diesel consumption to save USD 2.2 billion of imports for the next 4 months. In addition, there are efforts to improve the Domestic Component Level in various industry lines and to boost tourism foreign exchange income to reap foreign exchange from foreign tourists.
In monetary authority, BI have taken several steps to maintain rupiah stability. In that event, the Law No. 6/2009 mandates BI to maintain the stability of rupiah value by implementing a monetary policy framework with inflation as the main target using the floating exchange rate system.
Mudrajat opined the government should prioritize a number of "homework" related to the export chain and several factors causing high-cost economy. Some of them are the container handling charge at ports is still the highest in ASEAN, extortion, and industries faced with a high content of imported raw materials, intermediate materials, and components for the entire industry at 28-90 percent.
As many as 80 percent of non-oil & gas exports are products of the manufacturing industry, so the industry needs to be directed to realize a competitive industry. Moreover, to link the small and medium industry development, to create a healthy industrial structure, and to accelerate industrial development outside Java.
"Removing 93.39 percent of tariff posts, 6,683 out of 7,156 tariff posts on the normal track and even 100 percent in 2012. The government's plan to increase import duties on imported products needs a further study, especially if these imported products are used as the main raw materials for industries and SMEs, such as soybeans, cotton, sugar, silver, and iron ore," he said.