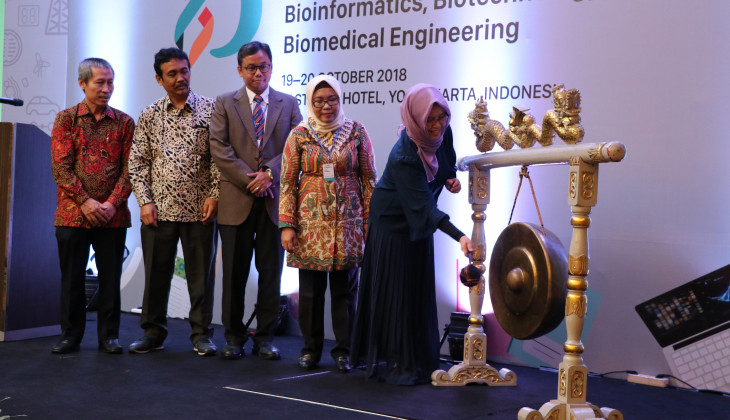 UGM publishing house held the 1st International Conference on Bioinformatics, Biotechnology, and Biomedical Engineering (BioMIC 2018) from 19-20 October 2018 in Eastparc Hotel, Yogyakarta.
As part of UGM annual scientific conference, it serves as an academic platform for researchers to present current research and announce technology and new directions in bioinformatics, biotechnology, and biomedical techniques.
"The speakers will enrich the conference with insight related to new trends. The conference also gives opportunities to researchers to meet and interact academically," said event chairperson of BioMIC 2018, Dr. Tri Rini Nuringtyas.
The event consists of 5 symposiums, namely Bioinformatics and Biological Data Mining symposium, Biomedical Science and Engineering symposium, Biomolecular and Biotechnology symposium, Drug Development and Nutraceutical symposium, and Genetic Resources and Uses symposium.
Rini said even if it was firstly done, BioMIC 2018, was responded well by researchers. There are 138 people registering from 8 nations, such as Romania, Australia, Japan, and Malaysia. She added the papers that were submitted and presented in the event would be published in scientific journals.
UGM Vice-Rector for Research and Community Service, drg. Ika Dewi Ana, M.Kes., Ph.D, said multidisciplinary approach development was a consequence to be taken to address the more complex problems. Technology development can create new means for research in health, for instance, hence collaboration between researchers is needed to get the best solution.
"A multidisciplinary approach can increase competence and encourage us to contribute more for science and humanity," she said.
The BioMIC ran plenary sessions given by Prof. Jun-Ya Kato from Division of Biological Science, Nara Institute of Science and Technology, Japan; Prof. Masahiko Hatano, MD, PhD., from Department of Biomedical Science' Graduate School of Medicine' Chiba University, Japan; and Dr. Piergiorgio Gentile from Newcastle University, UK, Prof. Vinod Chandran from Computer Vision dan Medical Imaging, QUT, Australia; Dr. Pascal Montoro from Centre de Coopération Internationale en Recherche Agronomique pour le Développement (CIRAD), France; and Prof. Shri Mohan Jain from Department of Agricultural Sciences, University of Helsinki, Finland. A symposium followed the sessions.