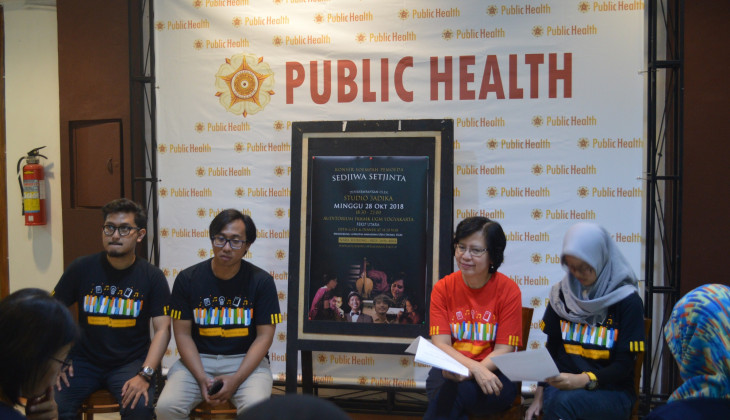 Celebrating Youth's Oath Day 2018, Faculty of Medicine, Public Health, and Nursing UGM organised a concert, Soempah Pemoeda 'Sedjiwa Setjinta', to support the disabled people.
Afriza Animawan Arifin, S.Psi, music conductor, said the violins and string section will feature in this concert in combination with the piano, vocals, and ballet. The concert will be presented by Studio 3adika.
A number of works by Indonesian and international composers will be performed to deliver the value of the Youth's Oath to music lovers. The performance will also give education on the violins, given by violinist Fafan Isfandiar.
"On why the violins, it's because we want to remember the first time the national anthem Indonesia Raya was played in 1928 by its composer, Wage Rudolf Supratman, on the violin," said Afriza at the Faculty on Wednesday (24/10).
Prof. Adi Utarini explained Yogyakarta ranked second in Indonesia with regard to the number of people with disabilities. In 2012 as many as 3.8 percent (age >15 years old) in Yogyakarta had limited physical abilities. "This figure included UGM students who have disabilities. UGM so far has built facilities that can support their studies here," she said.
Thus, the concert, she said, was presented for them especially those at UGM to be able to study well.
The concert will run on Sunday, 28 October 2018, at the Auditorium of the Faculty starting at 17.30 hours. Performers will consist of Prof. Adi Utarini and Ike Kusumawati (piano), Adinda Putri (cello), Jodi Visnu (vocal), Danu Kusumawardjana (violin), 3adika Quintet, Ayrani Ballet and Mix Line Dance.
So far as many as 240 tickets have been sold. There will also be a live streaming that can be done by registering and paying fees of IDR 50 thousand. All sales and individual donations will go the UGM student unit to care for disabled people. The unit was launched in 2013 to advocate student's rights.
Kaysha Ainayya S from this unit said the issues of disabilities they wanted to fight for include the right of higher learning as stated in the Law No 8 Year 2016 and Minister Regulation No 46 Year 2017.