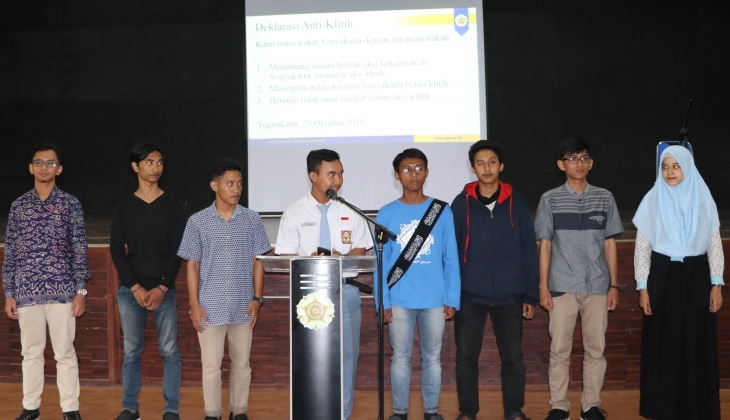 Faculty of Cultural Sciences UGM has pledged against criminal acts among young people on Monday (29/10) at Poerbatjaraka Auditorium of the Faculty, joined by youth representatives from Yogyakarta, activists and UGM academic community as well as society.
They put this in a declaration to reject all types of crimes in Yogyakarta as well as readiness to create the area free from criminal acts.
Dean of the Faculty, Dr. Wening Udasmara, hoped with this declaration all elements of society in Yogyakarta would support it and create security in the city. This is necessary to break down the chain of regeneration of criminal groups here.
"To create security in Yogyakarta is the responsibility of all elements of society. So, let's work together to prevent criminal acts from happening among us," she said.
Chief of Yogyakarta police office, Sr. Comm. Pol. Armaini, said the crime among youths was concerning for the people of Yogyakarta. It can even threaten the nation in the future, because the perpetrators are the young people who will carry on the legacy of the nation.
"So, let's wage war together against criminal acts among the young people," he said.
Meanwhile, Rector of UGM represented by Director of LPPM UGM, Prof. Irfan Dwidya Prijambada, said UGM promoted itself as a cultural university. This is part of UGM care towards culture. Hence, UGM very much appreciates the event that rejects all kinds of violence.
Event chairman, Shobichatul Aminah, said the declaration was an event to break down the chain of criminal gang regeneration. Other events held here include meme and video competitions, and film making for counselling, in addition to Training of Trainer, roadshow and mediation.