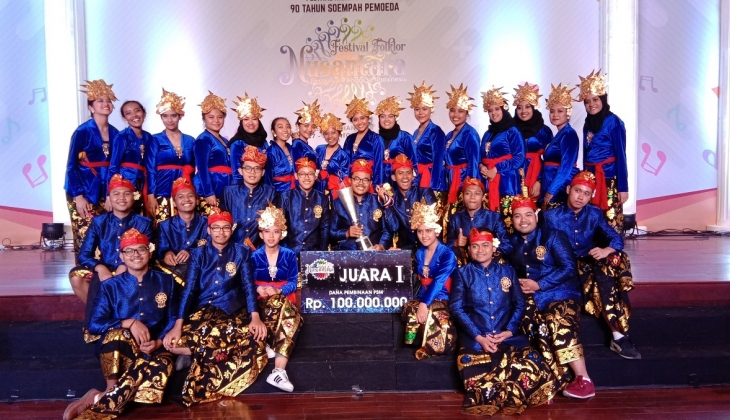 Universitas Gadjah Mada Student Choir team won first place in the national student choir competition entitled Nusantara Folklore Festival. The event is organized by the Indonesian State University Alumni Association (HIMPUNI) to commemorate the 90th Youth Pledge Day. As many as 12 finalists from state and private universities across Indonesia participated in the two-day competition. This year, the UGM student choir presents 2 repertoires, which are Tanah Air, composed by Ken Steven, and Janger by Agustinus Bambang Jusana.
From the announcement of the final result held at the Ministry of Public Works and Housing auditorium, Saturday (10/27), the UGM team has earned score of 84.93 and took home the President Trophy as well as Rp100 million cash prize. They are followed by Cantus Firmus Student Choir of Universitas Sanata Dharma and Suara Satata Cakti Student Choir of Universitas Negeri Malang, which won the second and third place.
This festival was also attended by the Indonesian Minister of Transportation, Budi Karya Sumadi, who is also the HIMPUNI Presidium II Coordinator. In his remarks, he welcomed the university-level 2018 Nusantara Folklore Festival in Indonesia. According to the Minister, this competition was a place for the young generation, especially students, to express their love for the nation and maintain as well as strengthen the spirit of youth pledge on October 28.
"The participants were all so enthusiastic to show what was declared 90 years ago," said Budi in his speech.
Antari Innaka Turingsih, coach of UGM student choir, expressed her gratitude for this achievement. "I am very grateful to Him that my students can win the first place in this festival," added Antari.
This achievement was realized by support from UGM Rector, Triweka Rinanti and Partners, PT. Perusahaan Listrik Negara, PT. Pelabuhan Indonesia, Research Technology and Higher Education Ministry, PT. Bank Mandiri (Tbk.), PT. Bank Negara Indonesia (Tbk.), PT. Bank Central Asia (Tbk.), PT. Angkasa Pura I, KAGAMA, Gadjah Mada University Club Hotel, and Alumni of UGM Student Choir 'Adiswara'.