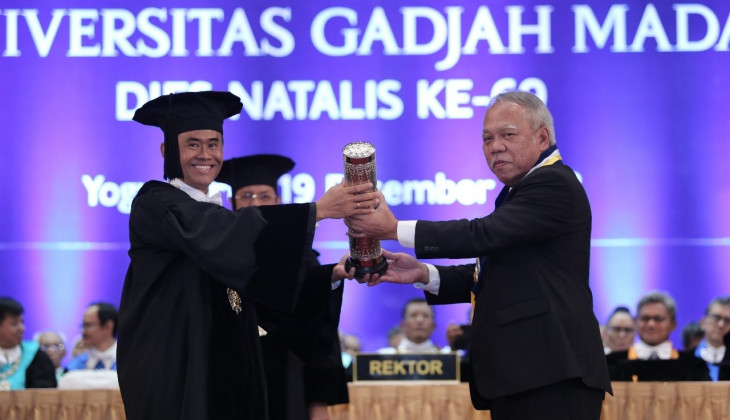 Universitas Gadjah Mada (UGM) has granted the Hamengku Buwono IX Award to Public Works and Settlement Minister, Basuki Hadimuljono. The award was presented at the summit of UGM's 69th anniversary celebrations in Grha Sabha Pramana (GSP) UGM on Wednesday (19/12). Rector of UGM, Prof.Ir. Panut Mulyono, M.Eng., D.Eng., said Basuki Hadimuljono had been selected to be the recipient of the HB IX Award for his services in infrastructure planning and development in Indonesia. "UGM grants the HB IX Award to Basuki Hadimuljono for his tremendous services with ideas and infrastructure development for the nation," said the Rector.
Basuki Hadimuljono who is alumnus of UGM's Geological Engineering department was considered as deserving the award because in his work, he had followed the examples of Sri Sultan HB IX who was simple, democratic, charismatic, close to people, and with unconditional services for the nation's welfare and glory. "In addition, he has high integrity both as a person and public official," he said.
Basuki extended his appreciation to UGM that had conferred the HB IX Award to him. "I would make this award as a point to always give good services and be a good role model for the next generation, especially at the Public Works and Settlement Ministry," he said.
He said the award was not apart from the role of the Ministry which had supported him in providing public works facilities. "I would like to dedicate the award to the big family of Public Works and Settlement Ministry who have worked hard willingly to make good infrastructures that can unite the nation and achieve social justice for all Indonesian people," he said.