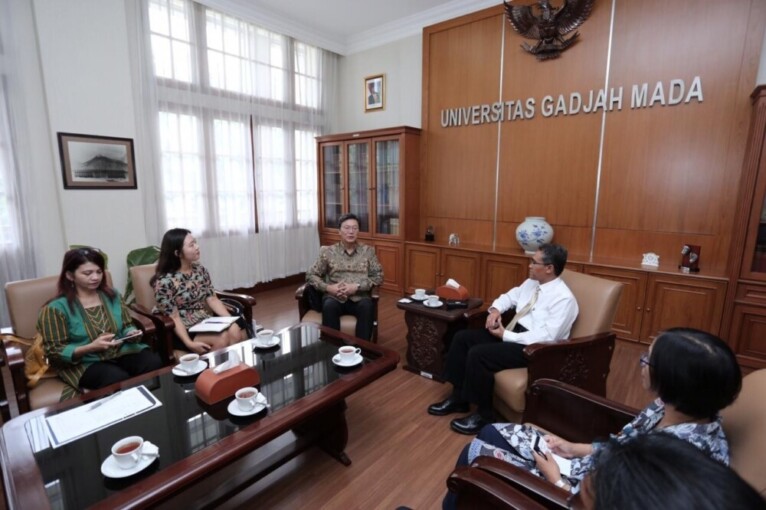 Rector of UGM, Prof. Ir. Panut Mulyono, M.Eng., D.Eng., received the visit made by South Korean Ambassador to Indonesia, H.E. Mr. Kim Chang Beom, at UGM on Wednesday (23/1).
Ambassador Kim said he was happy to meet the Rector of UGM and hoped the meeting would strengthen the cooperation that has already existed. He also appreciated UGM that had established cooperation with South Korean universities.
"I hope the cooperation can continue and get stronger in the future," he said,
The cooperation between South Korea and UGM includes Korean studies development, student and lecturer exchange, research, as well as Saemaul Undong programme that has already been implemented in a number of areas in Yogyakarta, including Gunung Kidul and Bantul.
"I would like to thank you to UGM that has helped introduce Saemaul Undong," he said.
Meanwhile, Rector of UGM said UGM had strong cooperation with a number of South Korean universities, which includes student and lecturer exchange programme.
"I hope the student and lecturer exchange programme between UGM and South Korea can increase," said Panut.
Also attending the event were Vice-Rector for Cooperation and Alumni, Dr. Paripurna, Chairman of Centre for Tri Sakti and Saemaul Undong Studies (PSTS), Dr. Mukhtasar Syamsuddin, Secretary of Korean Language Department, Dr. Suray Agung Nugroho, and several UGM lecturers who are alumni from South Korean universities.