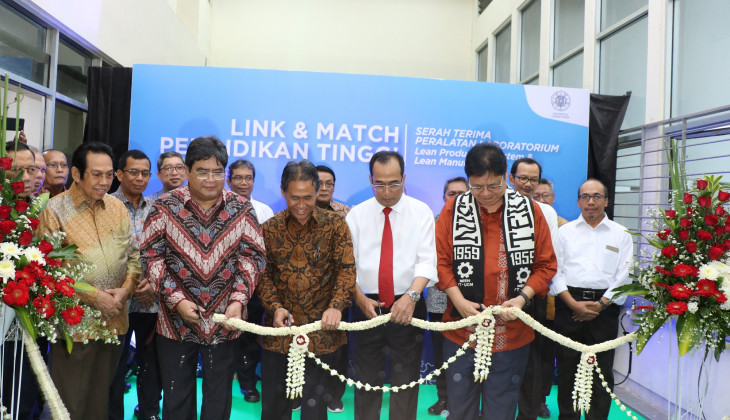 Industry Minister Airlangga Hartarto installed Lean Manufacturing and Lean Production System laboratories at Faculty of Engineering UGM on Friday (22/2). The labs are donation from PT Toyota Motor Manufacturing Indonesia (TMMIN) to support learning and research at the Faculty.
The Minister along with Transportation Minister Budi Karya Sumadi, Rector of UGM, Prof. Ir. Panut Mulyono M.Eng., D.Eng., Director of Administration, Corporation, External Relations & CSR of TMMIN, Bob Azam, later installed the AI Center of Excellence to welcome industry 4.0 at Electronics Department.
The Industry Minister said what had been done by Faculty of Engineering UGM was research related to Industry 4.0. Hence, the government would boost good innovations to be made through fiscal incentives. He emphasised however that the scale and levels of research need to be increased.
Rector of UGM appreciated Toyota for the lab donation. He hope these would bring progress to the Faculty as well as the nation.
"The technology disruption era triggers academics to work faster and catch up. We have to get hold of Industry 4.0 very fast," he said.
Engineering Dean, Prof. Ir. Nizam, M.Sc., Ph.D., said the cooperation with PT. Toyota had long run well. One of those was the grants in the form of simulation tools for lean manufacturing so that work at factories could run well. He added Faculty of Engineering would strive to cooperate with more industries.
Bob Azam said Toyota as industry player was excited to be a part of Indonesia's education progress. PT. Toyota realised that to deal with Industry 4.0, preparations had to be made early by technology knowledge transfer, which is experiencing industry since college.
"Through these labs we hope practices done here can be the bridge to the real world," said Bob Azam.