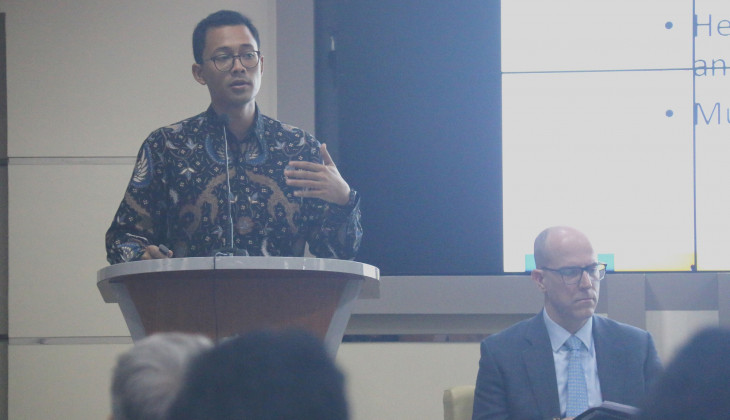 ILO in 2017 reported that 60 percent of Indonesian workers had jobs unsuitable to their education background. This was seen as due to the fact that education curriculum was unsuitable to the industrial needs, the limited employment training centres, and low demand of skills training for the young people. Hence, government is asked to boost work skills improvement among the young people through skill training.
These emerged in a discussion held at Faculty of Economics and Business UGM on Friday (1/3). Held by the Faculty in cooperation with the IMF and Indonesian Economists Association (ISEI). The event presented speakers, IMF representative, John C. Bluedorn, Ph. D, UGM lecturer, Gumilang Aryo Sahadewo, S.E., M.A., Ph.D., and economist from UI and ISEI, Dr. Ninasapti Triaswati, S.E., M.Sc.
Gumilang said the Indonesian manpower productivity was still considered low as compared to those in neighbouring countries. This added to the unsuitability of skills earned at education institutions to the industrial needs. "Education and industry seem incoherent so this needs to be bridged through vocational education," he said.
He saw that humanities, law and social sciences education was more on offer - 30 percent- than engineering, science and technology. "Sciences education is 1.6 percent, ICT 9.8 percent and engineering and maths 9.3 percent, compared to those in Malaysia which is 18.3 percent and Vietnam 21 percent," he said.
He also saw the need for government to add employment skills centres for the youth which amount to 19 at central level and 284 at regional levels. Gumilang further appreciated the government move to build 1,000 community based employment skill centres and hundreds other in Islamic boarding schools.
John Bluedorn, PhD., said every country face similar challenges in improving the skills of the young people. The disparity in technology and gender gap indeed pose a barrier in this matter. "As a matter of fact, the low skills and low education quality have increased unemployment among the young people," he said.
Therefore, he considered it necessary to enhance employment skills institution, education quality improvement, training in business and marketing as well as social and legal security, especially for women.
Meanwhile, Ninasapti Triaswati Ph.D., highlighted the technology gap among the youth and the unequal access to electricity and internet that have hampered the development of digital based economic development. "Without electricity and internet, the economic impact of digital revolution is hard to be found in all areas," she said.
While on employment, she asked the government to produce pro-manpower regulation that also encourages good climate investment so as to spur job creation. "Government and politicians should be pro-manpower, hence the economy would flourish," she said.