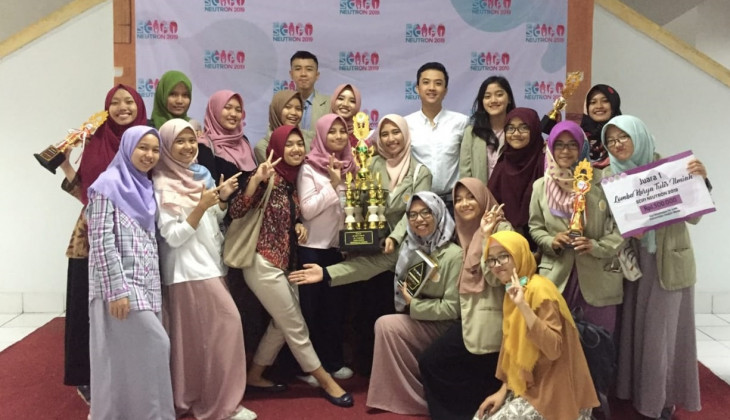 UGM students of faculty of Medicine, Public Health, and Nursing, have snatched the grand champion titles for the fourth times in the SCIFI NEUTRON 2019. The national competition joined by tens of institutions across Indonesia was done at the UGM Faculty from 15-17 March.
UGM delegate, Gerina Indra Pertiwi, said there were four categories of competition being competed, scientific writing, national nutrition olympiad (N2O), poster, and dietetic contest. UGM has successfully grabbed four winner titles, making it the grand champion. "This is the fourth time for UGM to win the title successively," she said on Wednesday (20/3).
UGM delegates in the SCIFI NEUTRON 2019 are Gerina Indra Pertiwi, Elsa Fairuz, first winners of scientific writing, and Fairuz Khairunnisa, Kenny Putri Kinasih, Sella Nur Cahya, runner-up of the same category. Next, Enrique Aldrin, Safira Tasya Amelia, and Nadia Yasmine are the first poster winner, and Elsa Fairuz in second place for national nutrition olympiad (N2O).
Gerina and team made innovation in nutrition rich food called as Nutriballs. "Nutriballs is supplemental food innovation for malnourished babies at the age between 6-59 months old," she said.
Gerina hoped her fellow students would not hesitate in participating in scientific competitions. "I hope our fellow students are interested in joining competitions, because unless we try, we would never know our own potential," she said.