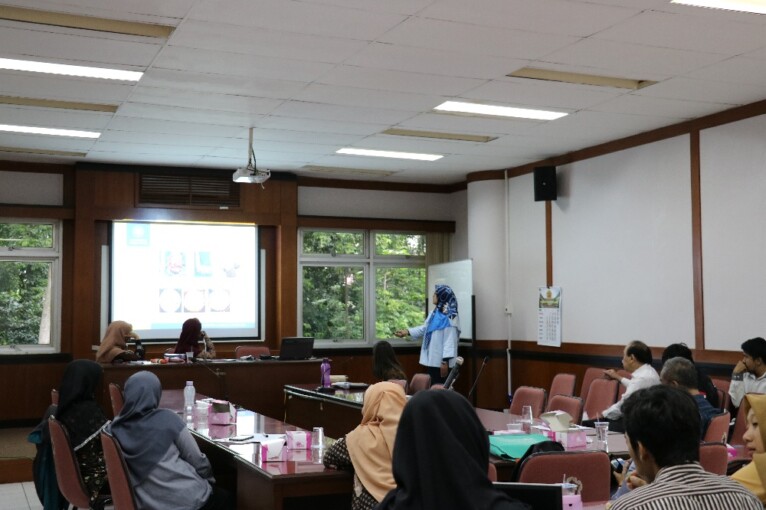 Faculty of Biology UGM disseminated research results of its doctoral students on Thursday (11/4).
Taro Diversity and Bazzania
Linda Oktavianingsih researched into diversity and familial relations of taro cultivars in Kalimantan. She found there were 123 taro accessions coming from wild habitat, semi-cultivation and cultivation. Taro accession in Kalimantan consists of species such as C.esculenta, C.esculenta wild type, C. affinis, and Colocasia sp.
Taro cultivar diversity in Kalimantan consists of diversity in morphological characters, especially in petiole that have very diverse colours. Meanwhile, anatomical characters that are varied is found in leaves in the form of epidermal modifications in the form of papilla. "Based on RAPD analysis, taro accession in Kalimantan has high diversity with similarity coefficient of 0.615-0.974%," she said.
Meanwhile, Lilih Khotimperwati also conducted research in plant diversity particularly biosystematics of Bazzania Gray based on morphological, anatomical molecular characters. The research showed the species diversity of Bazzania in Central Java that is identified in 11 species. These are B. calcarata, B. fauriana, B. japonica, B. javanica, B. pectinata, B. perfalcata, B. praerupta, B. serpentina, B. spiralis, B. succulenta and B. tridens. B. fauriana, B. perfalcata, and B. succulenta is a new record of Bazzania species in Java.
Lilih mentioned that based on ISSR marker population of Bazzania in Central Java has high genetic variations. The high genetic variation also reflects in the numerous mutations of sequential DNA trnL-F in introns.
Orchid Genetic Engineering
Research in genetic engineering for orchid (Phalaenopsis amabilis (L.) Blume) propagation and conservation has been done by Windi Mose. During this time propagation is often done conventionally with seed or in vitro propagation. But it is considered not optimum as it can only produce offsprings in a limited number.
Windi did the research using somatic embryogenesis through genetic transformation and embryogenetic key gene from plant models Arabidopsis thaliana, AtRKD4. This transformation uses activation system through induction of glucocorticoid compound. It showed that glucocorticoid compound can induce AtRKD4 gene expression and there are 154 differential expression genes (DEGs) that are expressed during somatic embryogenesis induction with 118 genes experiencing upregulation and 36 genes experiencing expression downregulation.
Another genetic engineering research has been done by M. Dylan Lawarie on optimising system application of CRISPR-Cas9 in orchid with genome editing that has roles in activating chloroplasts such as PDS3 and VAR2. CRISPR-Cas 9 is the latest genome editing technology that can be used for genome editing precisely. Dylan mentioned the mutation in both genes caused the emergence of albino phenotype in the leaves. "It showed that pRGEB32 vector gave better mutation results than pKIR 1.1. vector," he said.
Anti-pest Melon and Wedelia trilobata
Begomovirus is a virus that is a serious threat to melons. Yet data of such virus in Indonesia is limited, which hampers the infection controls. "One of control strategies of Begomovirus which is effective and environmentally friendly is by melon cultivar development that has resistant genes against Begomovirus," said Aprilia Sufi Subiastuti.
She identified Begomovirus types in melon in Indonesia by cloning-sequencing method. It showed that the sequence that is produced has homology with resistant genes against the virus with other resistant genes that have been identified previously in melon and cucumber.
Still another research is presented by Endang Saptiningsih related to morphological and anatomical adaptations of Wedelia trilobata in different types of flooding. It showed that this plant can form hypertrophied lenticels in stolon that is submerged in waterlogged submergence, partial submergence and complete submergence. The formation of hypertrophied lenticels in mature level with the highest number and is formed earliest happening in stolon that is in waterlogged, while lowest number with partial mature level is found in complete submergence treatment.