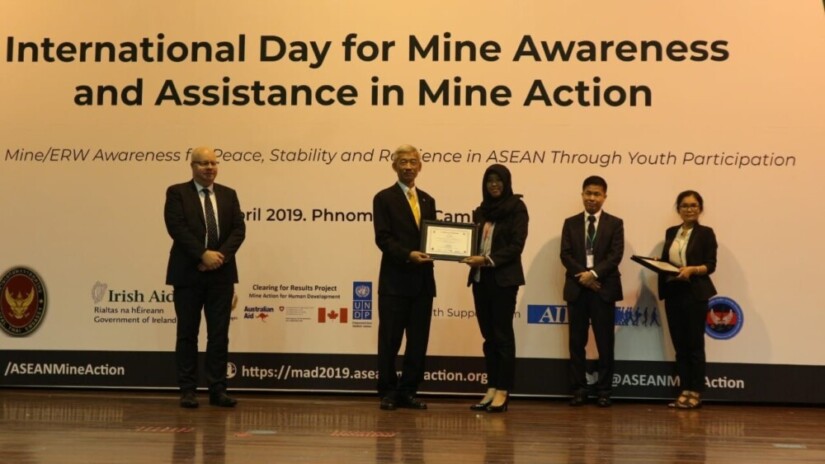 Eka Hafsari, student of UGM's Vocational School, has earned two awards from ASEAN.
The first is the Best Submission title in the International Mine Day that was organised by ASEAN Region Mine Action Center in Phnom Penh, Cambodia from 3-4 April 2019.
"I was appointed as a delegate to receive a full funding programme for the best works related to mine actions in Cambodia," she said on Tuesday (14/5) at UGM.
As many as 600 students from 10 ASEAN countries took part in the event which later selected 3 best essays or posters from each country.
Eka earned the award for her scientific poster titled Little Things Big Impact. Through the poster she delivered information on Indonesia's mines regarding mine handling and method taken by task forces.
Another award was earned previously by Eka from ASEAN Student Conference event lasting from 20-26 January 2019 in Universiti Utara Malaysia. In the Beat The Deforestation themed event, she earned the Best Paper Award.
In the conference joined by 30 finalists from 9 ASEAN member countries (Brunei Darussalam, Myanmar, Cambodia, Indonesia, Malaysia, Singapore, Philippines, Thailand, and Vietnam), Eka submitted a paper titled KEPUH (Forest Protection Group and Springs Preserver) As Life Supporters of Mendiro Village. The paper tells the experience of her hometown residents of Mendiro in Jombang, East Java of their forest awareness.
"In my hometown, there is a community group that has been running activities on forest awareness since 1999," she said.
She explained the group had been born out of awareness regarding environmental problems such as receding water or illegal logging in the area. One resident initiated the move to protect the environment and later encouraged other residents to volunteer. The group had implemented several programmes which now made the village as a conservation tourism village.