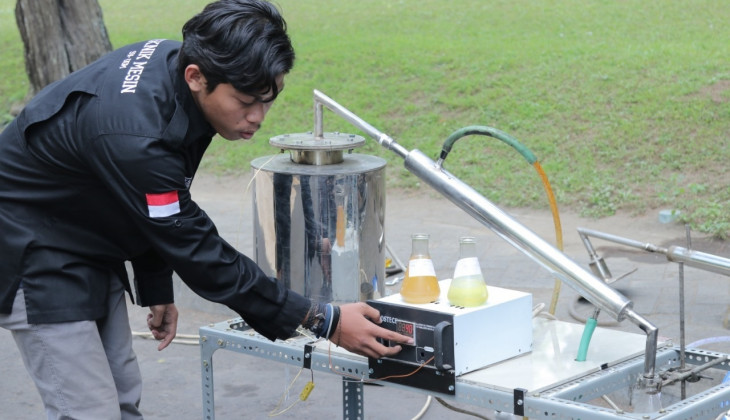 Universitas Gadjah Mada (UGM) students have developed a tool to convert anorganic waste such as plastic waste into bio oil and biogas.
The furnace named as AL-Production is made by Mechanic Engineering and Forestry students Yanditya Affan Almada and Refandy Dwi Darmawan.
"We develop a technology that can convert anorganic waste like plastic into fuel through a pyrolysis," said Affan on Wednesday (31/7) in a press conference at UGM.
The students employed a pyrolysis process to heat the plastic without oxygen in a certain temperature and distillation technique. A pipe is connected to a vacuum and high temperature stainless tube. Energy resource uses electricity to act as a heater.
"We used fire energy resources initially but the temperature could not be controlled. So later we use electricity which is more optimum," said Affan.
First, the plastic waste is put in the vacuum tube and heated up to 450-550 C degree. After 30 minutes, oil drips through the tube.
Affan had produced 6 heaters since starting the research in 2015 while in high school. In 2017 he made a small tool with a capacity of 2 - 3 litres selling at Rp20 million. A medium tool of 10 litre capacity costs Rp35 million.
Affan said the tool uses electricity for heating compared to other available tools that use fire energy, which makes temperature not well controlled.
"There are heating tools abroad, but they are just for heating or material testing. Our tool is equipped with distillator that can be used for the pyrolysis to convert the plastic waste into fuels," he said.
Currently, Affan continues to develop the tool after having received grants and mentoring from UGM Student Programme for Entrepreneurship.
"I hope this tool can be a solution to the problems of plastic waste in Indonesia," he said.