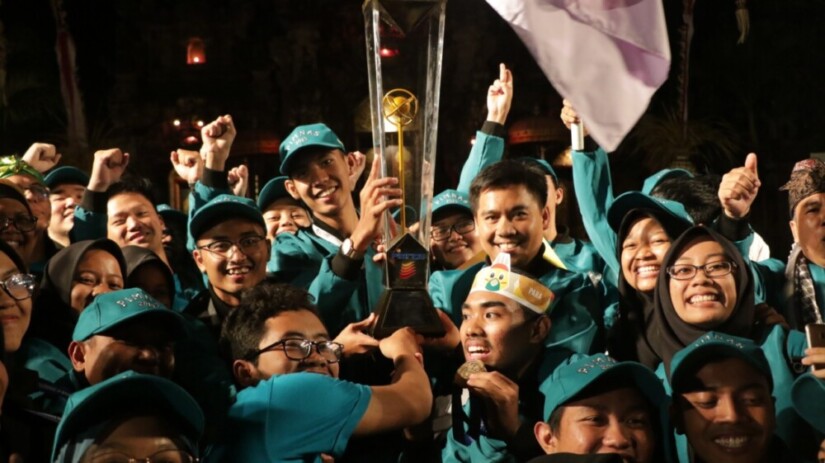 Universitas Gadjah Mada (UGM) has retained the title of general champion of the 32nd National Student Scientific Week (PIMNAS) running from 27-30 August 2019 at Universitas Udayana, Bali.
Result announcement and award presentation were made on Friday (30/8) ini Taman Werdhi Budaya-Art Center, Denpasar. The Adhikarta Kertawidya trophy was presented by Director General of Learning and Student Affairs in the Technology, Research, and Higher Education Ministry, Prof. Ismunandar, to Vice-Rector of UGM, Prof. Djagal Marseso Wiseno.
This year UGM has earned 26 medals consisting of 9 gold, 8 silver, and 9 bronze medals. The winners in the second and third places were Institut Pertanian Bogor and Universitas Diponegoro.
Djagal expressed his appreciation for the achievement made by UGM that won the competition again as in 2018 amidst the tight competition.
"We are thankful that UGM has retained the winner title of the National Student Scientific Week," he said.
He appreciated the team that had worked hard for the competition as well as lecturers that had prepared and trained them in addition to the faculties, departments and laboratories and everyone for supporting the team. "I hope this achievement can inspire other UGM students to also make achievements in the future," he said.
Head of Student Creativity Sub-directorate, Suherman Ph.D., said in the competition UGM had sent 25 teams to the finals. They grabbed 26 medals consisting of 9 gold medals with 4 in presentation category and 5 medals in poster category.
Next, 8 silver medals consisted of 5 medals in presentation and 3 medals poster category. While 9 bronze medals were earned for 4 medals in presentation and 5 medals in poster category.
The National Student Scientific Week is an annual national student competition that is organised by the Ministry to instill nationalism spirit among the students. The event is expected to generate the birth of invention and innovation among the students that later can be developed into industrial scale products. This year there are 460 titles of scientific papers being submitted by 126 state and private universities in Indonesia.