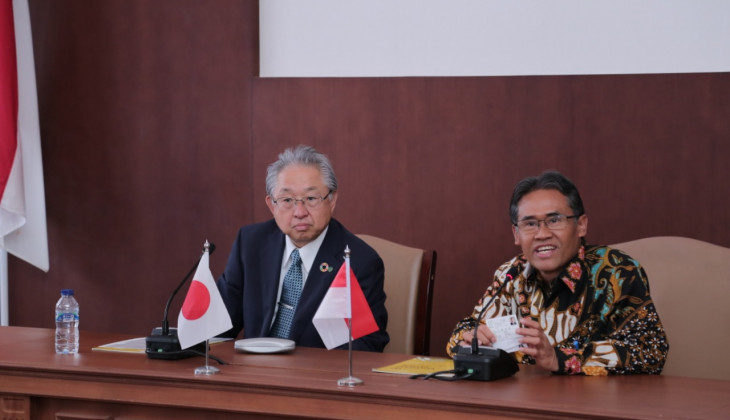 Rector of Universitas Gadjah Mada (UGM), Prof. Ir. Panut Mulyono, M.Eng., Ph.D., received the visit made by President of Yamaguchi University, Japan, Prof. Masaaku Oka, and delegates on Friday (20/9) at UGM's Main Office. The visit aims to open collaborative opportunities in student and lecturer exchange, also research and publication.
Rector of UGM, Panut Mulyono, said UGM always opens opportunities for collaboration with foreign universities to increase UGM reputation in the world, hence opening student exchange opportunities. "But the cooperation would not only consist of student exchange, but also research and community service," said the Rector.
Furthermore, the Rector invited Yamaguchi University to send its students to a student community service that is conducted by UGM. Besides, lecturers with professorial degree can also give a general lecture or a course. "We invite international professors to come here to collaborate in teaching, doing research, or giving a general lecture to the students," he said.
He also appreciated the previous collaboration in research with UGM's Veterinary Medicine researchers. "Going forward, I hope the collaboration can be done with other faculties as well and I hope it will benefit both sides," he said.
Dean of Faculty of Veterinary Medicine, Prof. Dr. drh. Isrina Oktavia Salasia, said the cooperation with Yamaguchi University had long run in teaching, research, and enhancement of international studies programme. "Apart from research, we have done cooperation in farming community enhancement in Yogyakarta," she said.
Vice-Dean, drh. Agung Budiyanto, MP, Ph.D., said the collaborative opportunities between UGM and Yamaguchi University did not only cover animal health and husbandry, but also biodiversity agriculture and biology. According to Agung, the concept of agriculture and animal husbandry in Japan can be adopted in Indonesia. "The agriculture and animal husbandry systems in Japan are potential to be applied in Indonesia, particularly in the management quality development, cattle genetics improvement, and herbal medicine development," he said.
Masaaku Oka appreciated the opportunities between UGM and Yamaguchi University. As Japan's third oldest national university, Masaaku Oka said, Yamaguchi University had comprehensive study programmes, such as economics, science, agriculture and engineering. Established in 1815 in the city of Yamaguchi, the university currently has 9 faculties and 8 graduate schools. It also admits many international students. "For a long time, we have received international students, particularly from Indonesia," he said.
He hoped his visit to UGM would expand the collaborative opportunities, especially in student and lecturer exchange as well as research collaboration to increase joint scientific publications.