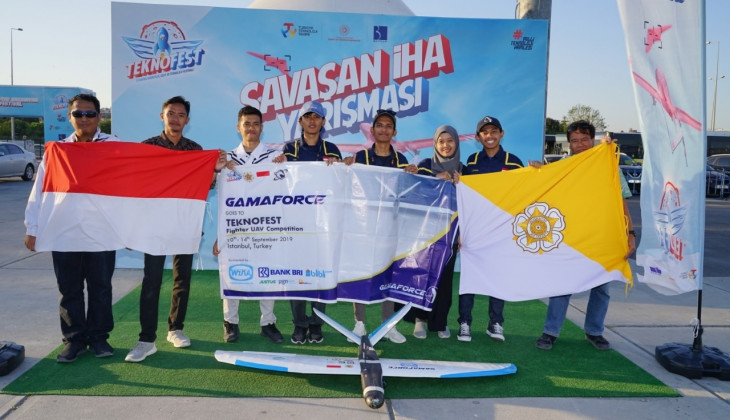 Ashwincarra UGM robot has won the third place victory in the Teknofest Fighter Unmanned Aerial Vehicle (UAV) Competition, running from 10-14 September 2019 in Istanbul, Turkey.
Ashwincarra is a flying robot made by the Gadjah Mada Flying Object Research Center (Gamaforce) team. It is a UAV of fixed wing category developed by the team under the supervision of Dr. Andi Dharmawan, S.Si., M.Cs and Dani Adhipta, S.Si., M.T
UGM's Head of Student Creativity Sub-directorate, Suherman, Ph.D., appreciated the Gamaforce team's success in the UAV competition in Turkey. They were able to compete to their best and finished challenges that were given, even making UGM and Indonesia proud in the world level. Such achievement is the result of the team's hard work and support from the lecturers, faculty, and university.
"We were thankful because we finished better this year than last year. UGM did not make it to the big three last year and this year we came as third winners," he said on Friday (20/9) on campus.
Previously, Ashwincarra had competed in a series of selection with 280 teams from around the world. Ashwincarra had been configured in detail and installed with artificial intelligence technology.