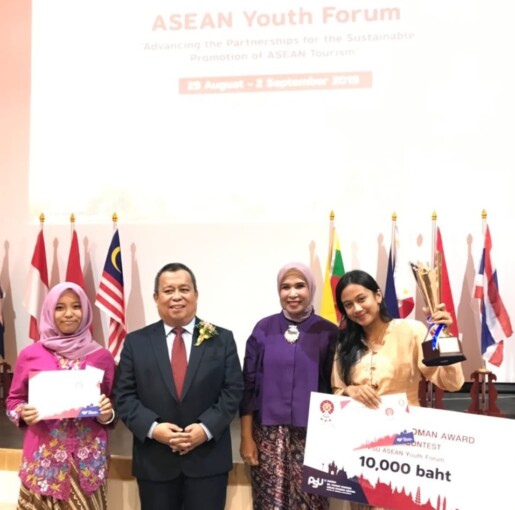 Students of Universitas Gadjah Mada (UGM) have made achievements in the Youth Asean Forum: Sustainable Tourism that ran in Prince of Songkla University, Thailand from 29 August – 2 September 2019. UGM's Tourism students, Ervina Wardiyanti, was the winner of the Speech Contest, while Riris Rinonce was the runner-up of the Project Development of Asean Tourism contest.
Ervina said the event was joined by ASEAN students. It consisted of Speech Contest, ASEAN Quiz Competition, and Project Development Competition.
"In the competition that I did, speech contest, the participant was asked to deliver a speech based on the themes decided by the committee," she said on Tuesday (24/9) at UGM.
The first round of the competition required the participants to make a speech themed Advancing Partnership for the Sustainable Promotion of ASEAN Tourism, while in the next round or finals, the finalists would deliver speeches regarding Youth Perspective on ASEAN Sustainable Tourism Threats.
"I myself presented cases such as culture commodification, economic leakage in the tourism industry, and carbon emissions from the industry in my speech," she said.
Meanwhile, in the Project Development Competition, the participants were divided into groups consisting of 3-4 people. Each was asked to devise a marketing strategy of Songkhla Old Town tourism. In advance, they had been invited to visit the Songkhla Old Town. They were asked to observe the attraction, amenities, and accessibility of this destination. Later, they were asked to design a marketing strategy that had to be presented in front of the juries.