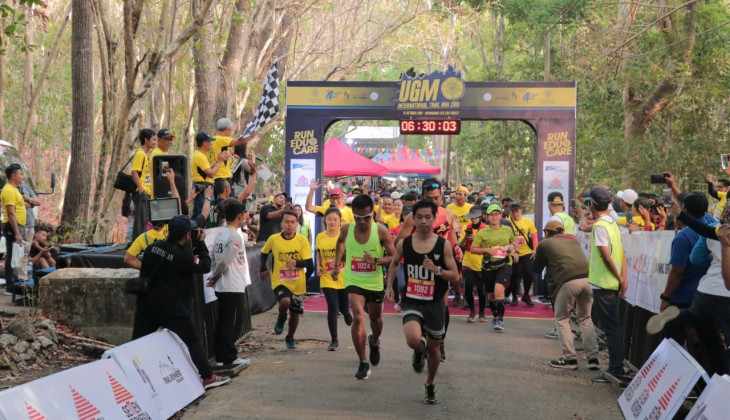 Universitas Gadjah Mada (UGM) along with alumni association (KAGAMA) have successfully conducted UGM International Trail Run 2019 event on Sunday (13/10) morning in Wanagama Eco Edu Forest, Gunung Kidul regency. This is the first time a cross-country competition ever done by UGM to celebrate its 70th anniversary and XIV Lustrum.
The competition was joined by 475 participants who were divided into three categories, 7 km, 14 km, and 21 km. They had to run through forests, rivers, and hillsides for all categories.
The theme of the event was Run Edu Care. Run means running as a lifestyle that not only makes you healthy but also brings happiness as it produces endorphins. Edu refers to the event location in Wanagama as an eco edu forest. Care refers to the fund raising action by the participants for the disabled people.
Rector of UGM, Prof. Ir. Panut Mulyono, M.Eng., D.Eng., in his opening remarks appreciated all the participants who came from a number of countries and regions in Indonesia. He also appreciated their high enthusiasm in the event.
"Many of the participants have spent the night here for the event. This showed their enthusiasm to take part in the competition. The message brought by the event is also good. Therefore, I plan to make the UGM International Trail Run an annual event," he said.
After the remarks, Panut released the participants of the 21 km run by waving the chequered flag. The 14 km participants were released by Chairman of Kagama - also Governor of Central Java, Ganjar Pranowo. And the 7 km run participants that included Panut and Ganjar were released by Dean of Faculty of Forestry, Dr. Budiadi, S.Hut., M.Agr.Sc.