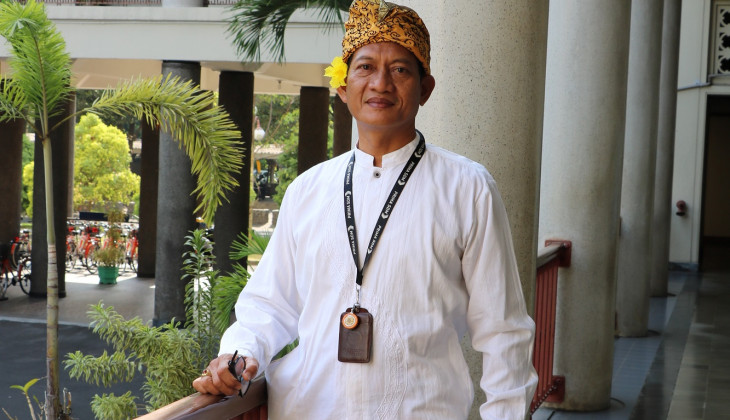 The campus of Universitas Gadjah Mada (UGM) looked different on Thursday (24/10). For the first time, lecturers, staff and a number of students were wearing traditional costumes that day. Indeed, for some time, government offices and schools in Yogyakarta have encouraged their staff and students to celebrate the birthday of Yogyakarta by wearing ethnic clothes at work or school every 35 days or on Thursday Paing according to Javanese calendar.
Head of Public Affairs and Protocol Office of UGM, Dr. Iva Ariani, S.S., M.Hum, supported this campaign because this means the academic community was asked to sustain their culture.
According to Iva, the policy of the Yogyakarta regional government encouraging people to wear traditional costumes every Thursday Paing was a call for the young generation to be reintroduced to their own culture and tradition that had been forgotten for some time.
"I think by this means they get reintroduced to their traditional costumes. Wearing a simple traditional costume will make it different, and working will feel better," she said.
Supri Budiantoro, HRD staff, said he did not mind wearing the costume every 35 days. He said this was a form of respect towards the culture of our predecessors.
"Alhamdullilah, we don't have to wear costumes from Yogyakarta only, but also from across the archipelago, so diversity can be promoted," he said.
Moreover, a number of students were also seen wearing ethnic outfits even if they were not obligated. Asep Mahendra, philosophy student, viewed that the policy to wear the traditional costume was good because it was a form of reintroduction to our culture and that UGM academic community consists of many ethnic groups.
"This is a chance for us to know each other and brand our respective cultures so that we're more convinced that actually Indonesia is culturally diverse. And that is a strength or treasure that we should be proud of," he said.