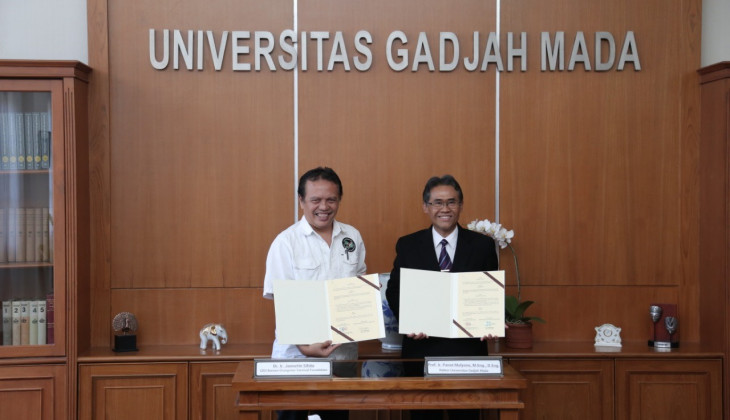 Universitas Gadjah Mada and Borneo Orangutan Survival Foundation have agreed to establish a cooperation in education, research and community service. The agreement was signed by Rector of UGM, Prof. Ir. Panut Mulyono, M.Eng., D.Eng., and Dr. Ir Jamartin Sihite, Chief Executive Officer of Borneo Orangutan Survival Foundation.
As a foundation that rehabilitates and reintroduces healthcare services regarding the wild, particularly orangutan, Borneo Orangutan Survival Foundation opens itself for research. Jamartin Sihite said Borneo Orangutan Survival as a place for research has produced many master and doctoral degree holders. By collaborating with UGM, it opens opportunities to do research and community service together.
"We open ourselves for student field practice to be done in our foundation," he said at UGM Main Office on Wednesday (6/11).
The foundation further invites Indonesian universities to educate and empower the young generation.
"Hopefully we can collaborate with universities in community services because there are many villages existing around the forest. The campus is the centre of innovation and technology that are beneficial to our conservation purposes. The cooperation will not only cover forestry, but also biology, veterinary sciences, economy, sociology, anthropology, and others," he said.
Panut Mulyono appreciated Borneo Orangutan Survival for their passion in conserving the orangutan which is one of the rich fauna of Indonesia. This cooperation is expected to improve their human resource capacity.
"By upgrading the foundation human resource, the graduate and master degree holders can be levelled up to doctoral degree and they are expected to know orangutans in depth," he said.
The Rector believes this will encourage the young generation to like the subject, which is less known in Indonesia but has drawn much interest from abroad.