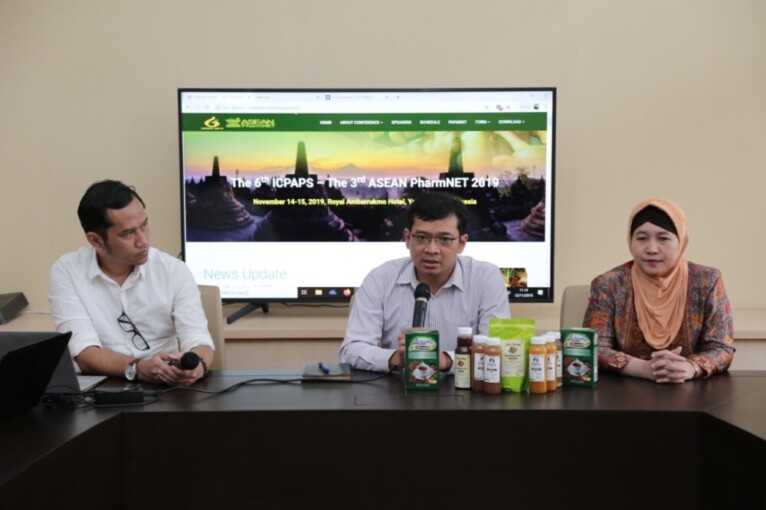 Universitas Gadjah Mada (UGM) hosted the 6th International Conference on Pharmacy and Advanced Pharmaceutical Sciences (ICPAPS 2019) from 14-15 November 2019 in Hotel Royal Ambarrukmo, Yogyakarta.
Themed Exploring the Local Wisdom for Advanced Pharmacy Education and Research, the conference is to bring together pharmaceutical experts, researchers, practitioners, industry and academics to share ideas related to pharmaceutical research development and education.
"Through this conference we wish to show our local wisdom, particularly from Yogyakarta," said Dean of Faculty of Pharmacy UGM," Prof. Agung Endro Nugroho, M.Si., Ph.D., Apt., on Tuesday (13/11) to reporters during a press conference done in Public Relations Office UGM.
Alongside the conference, an international herbal medicine (jamu) festival will run from 14-17 November in Royal Ambarrukmo Hotel which will display products from MSMEs.
Coordinator of ICPAPS 2019, Prof. Dr. Zullies Ikawati, Apt., explained the ICPAPS 2019 was held in conjunction with international conference, ASEAN PharmNET 2019. No less than 350 participants from ASEAN, such as Malaysia, the Philippines, Thailand, Cambodia, Vietnam, and Indonesia, will join the event.
Keynote speaker in the conference is Prof. Dr. Ali Ghufron Mukti from Research, Technology and Higher Education Ministry. Other resource persons will include experts from Nara Institute of Science and Technology (NAIST), Asian Association of Schools of Pharmacy, ASEAN PharmNET Representative, as well as pharmaceutical practitioners.