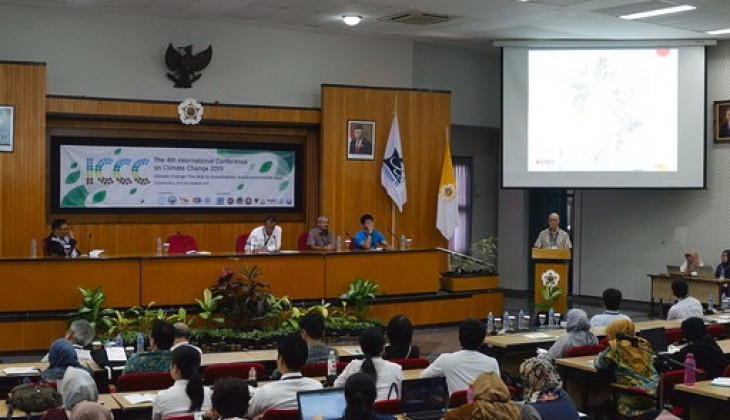 More than 150 experts, practitioners, researchers, lecturers, and students from Japan, Bangladesh, Vietnam, Australia, and Indonesia attended the 4th International Conference on Climate Change (ICCC) 2019, running from 18-19 November 2019 at Universitas Gadjah Mada's (UGM) Graduate School. The conference was hosted by Environment Master Programme in the Graduate School UGM in collaboration with the Association of Indonesian Environmental Experts (IALHI), UNS, and Gifu University.
In the conference the participants discussed climate change impacts. Strategies were expected to be produced in the conference to minimising the climate change impacts.
The conference presented Prof. Dr. Masateru Senge from Gifu University, Japan, as keynote speaker. He explained that global warming caused imbalances in world energy, leading to extreme weather and climate change around the world. This caused a very serious impact in many sectors, including agriculture.
"Agriculture is a very important sector both in Japan and Indonesia, which are impacted by the extreme weather currently," he said.
Prof. Masateru Senge described that the extreme weather would eventually decrease agricultural productivity.
"So, it's important to manage water supplies during the rainy season as a mitigation strategy," he said.
Meanwhile, Secretary of the Environment Master Programme, Dr. Eko Haryono, said climate change was a real and serious issue. Hence, it needs a real action immediately to realise a better and sustainable future.