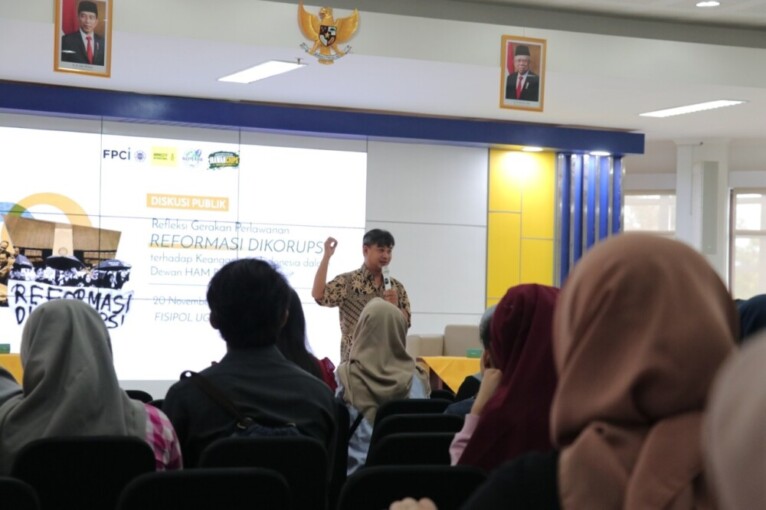 Vice-Rector of Human Resource and Asset of Universitas Gadjah Mada (UGM), Prof. Dr. Ir. Bambang Agus Kironoto, and Dean of Faculty of Pharmacy UGM, Prof. Agung Endro Nugroho, M.Si., Ph.D., Apt., laid the first rock for the construction of Advanced Pharmaceutical Sciences Learning Center (APSLC) building in the Faculty. This is the sixth building that is built with the loans from JICA.
Bambang Agus Kironoto said on Thursday (21/11) that UGM was building 10 new buildings. The remaining 4 buildings would be at the Vocational School, two at Faculty of Engineering, and in Kulon Progo regency. He mentioned that UGM currently massively did a building construction with 30 more buildings being already in plan. In addition, there is an underpass construction that links the east side of Kaliurang Street with the west side of the Faculty of Medicine part.
Kironoto said the JICA loan was to support education at each faculty. Along with learning in the Industry 5.0, use of rooms starts to be reduced and converted to online lectures.
"Therefore, these new buildings are to be installed with very good IT systems. Hopefully, they can be utilised well, even sharing the large auditorium with other units," he added.
Dean of Faculty of Pharmacy UGM, Prof. Agung Endro Nugroho, M.Si., Ph.D., Apt., said the APSLC building would consist of 8 floors on a land measuring 10,000 meter square. As much as IDR 77 billion has been earmarked for the construction to support academic and non-academic activities.
He explained the first, second and third floors would serve as student public room with classrooms, mini market, and herbal medicine cafe. The fourth floor would be used for administration for integrated services. The fifth and sixth floors would house a lab, the seventh floor UKAI center, while the top floor the auditorium," he described.
He hoped the construction and improvement of several infrastructures at the Faculty would support academic improvements. Next thing to do would be to maintain campus cleanliness and layout.
"So, I would like to invite us all to maintain campus cleanliness and layout. Therefore, all can study and work well here in a comfortable atmosphere," he said.