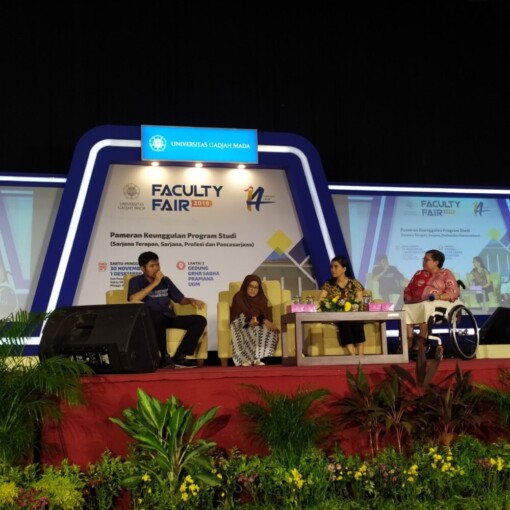 UGM has successfully run Faculty Fair 2019 from 30 November – 1 December 2019 in Grha Sabha Pramana UGM. It carried talk shows related to themes of excellence of UGM faculties. There was also a discussion entitled UGM Towards Inclusion Campus with people with disabilities.
The talk show presented UGM students with disabilities and a working team that cares about the disabled people. Team chairperson, Wuri Handayani, SE., Ak., M.Si., M.A., Ph.D., said through the talk show, UGM expressed its commitment to becoming an inclusion campus that is disability-friendly.
Wuri said the team was born of the initiative of the students that have joined a unit for students with disabilities. They asked the stakeholders of UGM to establish a more serious commitment in improving better services that are friendly to the disabled people, hence the team.
Wuri said the team would initiate the establishment of a disability service centre or unit to realise the commitment of UGM as inclusion campus in 2020 and to meet the Law No. 8 Year 2016 Article 43 and 44 on People with Disabilities.
"Essentially, education administrators ought to provide decent accommodations for students with disabilities and ought to involve inclusive education in their curriculum," said the Economics and Business lecturer.
Meanwhile, Tio Tegar Wicaksono, disabled student who became the resource person, welcomed the initiative. He said so far he had been welcomed by UGM. He wished to appreciate this commitment and hoped for a better service in the future. "To everyone with disabilities that want to study at UGM, please don't get scared," he said.