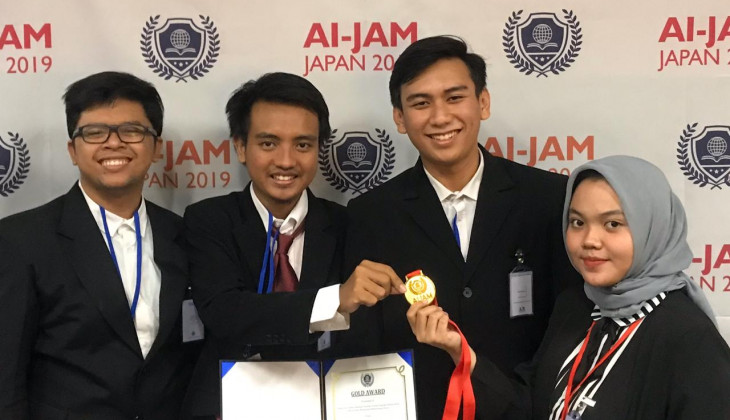 Electronics and Information Technology students of Universitas Gadjah Mada (UGM) have earned a Gold Medal in Advanced Innovation Jam (AI-JAM) JAPAN 2019 competition, held on Sunday (8/12) in Accenture Innovation Hub, Tokyo.
They also ranked as Top 6 in GUGEN JAPAN 2019 competition organised by AI JAM Association, American Society for Convergent Applications in AI (ASCAAI), Gugen Japan, and Hacker Dojo.
"We made the JoyBraille product, a console and e-widget keyboard for the blinds to communicate with others and get information digitally using the Braille," said Antonius Yonanda Chrisma Nugraha.
The team consisting of Antonius, Amalia Hari Iskania, Resha Dwika Hefni Al-Fahsi, and Muhammad Abdurachman Fairuz, were concerned with the unavailability of platforms for interacting with others digitally among the blind people.
"During this time the Braille has been used offline for daily communication. So, we made the Joybraille for the blind people to communicate and interact digitally through computers or a mobile device," he said.
They made the product from October - December 2019. Previously, they had also sent Joybraille to the Hackathon BIOS competition organised by Universitas Multimedia Nusantara where it became among Top 10.
He added AI-JAM JAPAN is a competition that focuses on the making of innovative products in technology. Initially, this product was curated in Indonesia by INNOPA (Indonesian Invention and Innovation Promotion Association) that led it into one of 17 teams from Indonesia entitled to go to Japan to take part in the AI-JAM JAPAN 2019.
"As many as 159 teams from Japan & Indonesia were curated. The Square AR team from the Electronics and Information Technology Department UGM earned the Gold Medal and Top 6 in the competition that was supported by PT. Komatsu Astra Finance and Katetigama," he said.