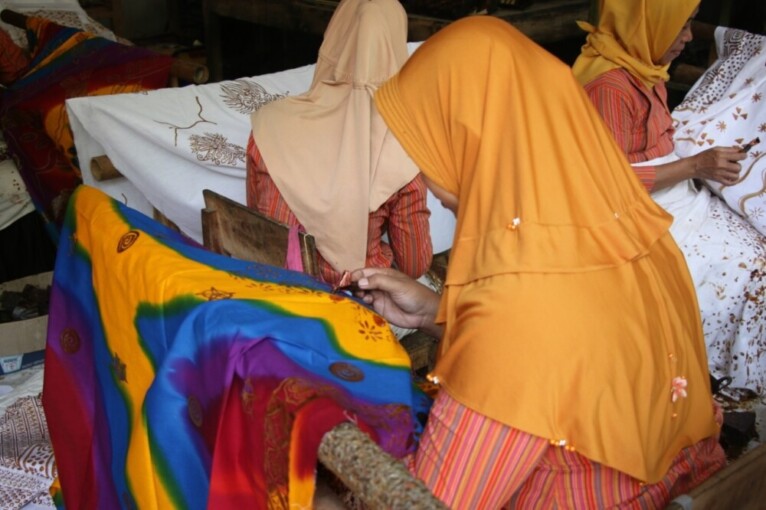 Batik is approved as the Humanitarian legacy for Oral and Non-material Culture by UNESCO in 2009. Yogyakarta is also validated as a world batik city by World Craft Council (WCC) in 2014. As a world batik city, Yogyakarta is absolutely expected to have a role as a reference for a batik production site that highly pays attention to the health of batik creators and the environment.
However, batik industrial activity is apparently followed by the health problems of its labors and surroundings. Many batik creators are contaminated to irritative, toxic, to carcinogenic chemicals derived from batik dyes. In fact, these ingredients are the highest causes of occupational diseases. The batik creators are prone to have some disturbances in several areas of the body, such as the skin, nervous system, eyes, and respiratory system.
In addition, the surroundings around the batik industry is also increasingly polluted due to residual waste production. Several attempts have been made to treat batik liquid waste, but the output from the Waste Water Treatment Plant (IPAL) is still out of the quality standard value, including Pb, Cr and Si.
In fact, there are settlements as homes for mothers and children in the vicinity of the industrial area. As a result, the disturbances that are often found in batik are also possible to occur in the community around the industry. In addition, observations show that there is still lack of K3 protection in batik. This is compounded by the lack of commitment to protect the health of the environment around the workplace by business owners.
Those problems encourage researchers from UGM, UN AIR, ITB and IPB who are considered as members of an Indonesian Ministry of Research and Technology Collaboration Research team to develop models of health, environmental and social technology interventions. The aim is to create a "Healthy Batik Village" that pays attention to the health and safety of workers, creates environmentally friendly, child-friendly, family, and the surrounding community (Environmental Friendly No Human Hazards)
The "Healthy Batik Village" was finally inaugurated on Wednesday (1/22) morning in Lendah District, Kulon Progo Regency. The inauguration included the launching of the Standard Operating Procedure module "Diseases Caused by Batik Job and How to Prevent It" and the delivery of batik waste treatment equipment from the research team to the representation of batik creators.
Public Relations Office of UGM
Reporter: Hakam
Translator: Sasa