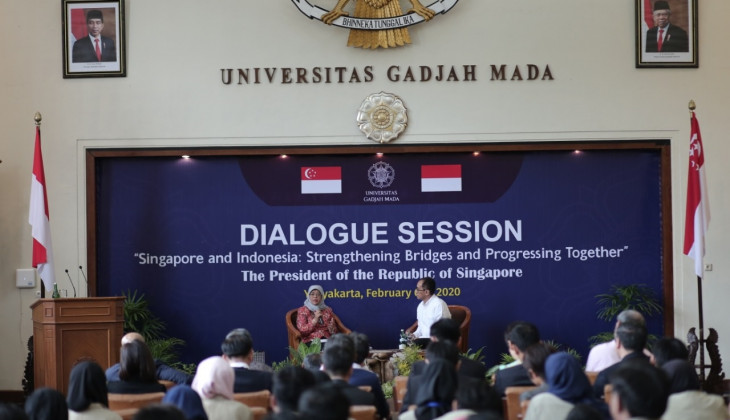 President of Singapore, Halimah Yacob, visited UGM on Thursday (6/2) as a part of country visit for two days in Yogyakarta. She engaged in dialogue session in UGM entitled, "Singapore and Indonesia: Strengthening Bridges and Progressing Together" in which attended by the amount number of students from several faculties.
Halimah stated that Indonesia and Singapore have tied a longstanding good relationship. She considered this relationship needs to be maintained for years to take on the various challenges together.
"There have been many things achieved through cooperation so far. I encourage you to continue this kind of thing in the coming years for the sake of long-term mutual benefits," she said.
At the beginning of the discussion, she explained various collaborations which had been carried out positive results between Singapore and the government or other institutions in Indonesia.
She considered economy digital as one of the sectors which needs to be extensively explored in the coming years. According to her, as millennials who stand out for their technology use, students have big opportunities to utilize technologies for the advancement in the various fields.
She expected, there would be more specific collaboration in the fields of financial technology, e-commerce, artificial intelligence and big data services.
"There is a natural synergy and other fields in which we can learn from each other. I believe the collaboration between Singapore and Indonesia is mutually beneficial and we can both get profitable results from it," Halimah said.
In this opportunity, she also responded to the various questions arose by the students either related to bilateral cooperation between Indonesia and Singapore or other positive things from Singapore which could be applied in Indonesia. One of the questions was related to Singapore's efforts to bring about peace in a very diverse society.
Halimah explained that unity was obtained through a long and difficult process. One of the supporters in the process according to her is the existence of platforms in the form of interfaith and cross-racial organizations, both at the national level and in a smaller scope.
She stated that a wave of peace can be fostered when every different individual can realize a common interest that they have and are willing to strive to achieve that.
"Don't focus on differences or conflicts, but focus on similarities. We all are human beings, we both need education, job and so on, yet, without peace those all are impossible to be obtained," she explained.
During her visit, Halimah was accompanied by Minister for Culture, Community and Youth, Grace Fu, Minister of State / Ministry of Manpower Sam Tan, Singapore Ambassador to Indonesia Anil Nayar, and Member of Parliament Jessica Tan Soon Neo.
The visit itself aims to strengthen relations between the two countries, especially in the fields of education and culture.
In his remarks, UGM Chancellor Prof. Ir. Panut Mulyono, M.Eng., D.Eng, IPU, ASEAN Eng., said that UGM has close relations with universities in Singapore, specifically with the National University of Singapore, (NUS), Nanyang Technological University (NTU), and Singapore Management University (SMU).
This cooperation includes student exchanges, lecturer exchanges, summer course programs, entrepreneurship for students, and leadership training programs.
"Collaboration between UGM and institutions in Singapore has become a longstanding tradition. At UGM, we have around 30 teachers who graduated from Singapore and we are very proud of them," the Rector said.
He also revealed that students from Indonesia and Singapore must be aware of developments at the regional level that are quite promising and require attention.
As a country bound by geographical proximity, Indonesia and Singapore are destined to work together and ensure that the young generation of the two countries can accomplish their roles as future leaders at the global level.
"Just as Indonesian youth must conceive Singapore, the young generation in Singapore cannot be neglected to Indonesia. So, let's work together and focus on the possibility of collaboration and solutions to evolve together," she explained.
Reporter: Gloria
Photo: Firsto
Translator: Sasa