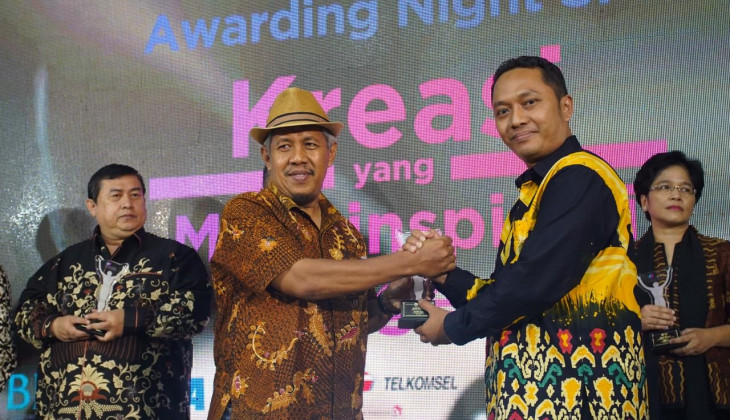 Gadjah Mada University won the Gold Winner of the Best of the University of InHouse Magazine (InMA) 2020 through UGM NEWS Magazine. The award was given at the IPMA, InMA, IYRA, ISPRIMA and IMRAS Winners Award ceremony at the Mercure Hotel Banjarmasin on Friday night (7/2). The award was given by Ahmad Djauhar (Secretary of the Central SPS Advisory Council) to Satria Ardhi Nugraha, M.A. as the Head of Subdivision of Public Relations and Protocol UGM.
The Head of UGM Public Relations and Protocol, Dr. Iva Ariani, is grateful for the achievements and trust are given to UGM. Nevertheless, this award is also homework for UGM KABAR magazine to be better in the future.
Besides, the UGM Rector Secretary, Drs. Gugup Kismono, M.B.A., Ph.D., said that this award was a continuous hard work done by UGM Public Relations. This achievement is inseparable from the role of various parties, both speakers, writers, mentors and university leaders.
"This Gold Winner is certainly quite encouraging. However, the quality improvement must proceed to be carried out to encounter more severe challenges forward," he said.
One of the InMA judges, Danu Kusworo (KOMPAS Daily Photo Editor) assessed many surprising things in this year's competition. However, the quality of the resulting product is maintained. "Later, it can involve more internal employees in producing the company's internal magazines," he said.
The routine agenda organized by the Press Company Union (SPS) was followed by 679 entries. The total entries are divided into four competencies including the Indonesia Print Media Awards (IPMA), the Indonesia Inhouse Magazine Awards (InMA), the Indonesian Student Print Media Awards (ISPRIMA), and the Indonesia Young Readers Awards (IYRA).
A total of nine judges were deployed to provide an assessment. They are Ahmad Djauhar (Secretary of the Central SPS Advisory Council), Asmono Wikan (Secretary-General of the Central SPS), Danu Kusworo (KOMPAS Daily Photo Editor), Oscar Motulloh (curator of the ANTARA News Office photo reporter), Mas Sulistyo (DM ID Design Director), and Nina M. Armando (Chair of the Department of Communication Studies FISIP UI), Ndang Sutisna (Executive Director of the First Position Group), Ika Sastrosoebroto (President Director of Prominent PR), and Agus Sudibyo (Chair of the Commission on Inter-Institutional Relations and the Press Council).
Reporter: Satria
Photographer: Firsto
Translator: Natasa A