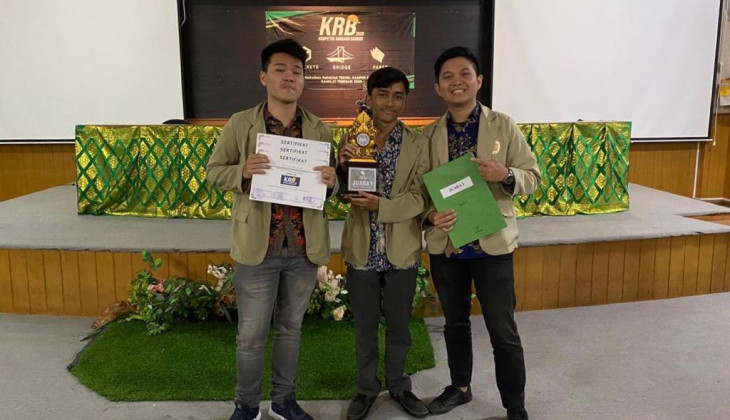 Universitas Gadjah Mada (UGM) student teams won the national writing competition "Green Building Construction for Our Bright Future" in the series event of 2020 Design and Development Competition.
In the competition that took place at the end of February 2020 at Udayana University, two teams from UGM Civil Engineering Department won first place and third place. The team that won first place was the Kahoyong Bundo team, named Arief Balie, Muhammad Dimas Mahardika, and Dylan Felyan. The group submitted a work titled Griya-Modular, Modular Homes that are environmentally friendly, sustainable, and smart.
"We propose the idea of a residential concept that is environmentally friendly, economical, and sustainable in which there are efforts to conserve water, energy conservation, modular construction, and waste management," Arief said on Thursday (19/3).
He further explained Griya-Modular in which developed with an environmentally friendly concept. It uses a green roof system based on a wetland roof or green roof planted with halophyte vegetation integrated with green space, wastewater treatment, and building supervision. While the lighting system uses natural lighting and LED lights that are environmentally friendly with solar panel generators, the application of the Griya-Modular concept can save a relatively high cost of around Rp. 18 million per year from savings in the use of clean water and electricity.
Other parties, Leiden, also obtained the achievement in third place for the same competition. The team consists of Marco Hadisurya, Ayu Wulansari, and Arisandi Sanjaya Putra. They carried the idea of using tile waste and bagasse ash as a substitute for cement.
"The idea we propose is related to the use of bagasse ash as a partial substitution of cement. Cement is a contributor to CO2 gas emissions. This innovation expected to be able to reduce the demand for cement to reduce the impact of global warming," Marco explained.
Author: Ika
Translator: Natasa A